'My Year of Rest and Relaxation' by Ottessa Moshfegh
Review #113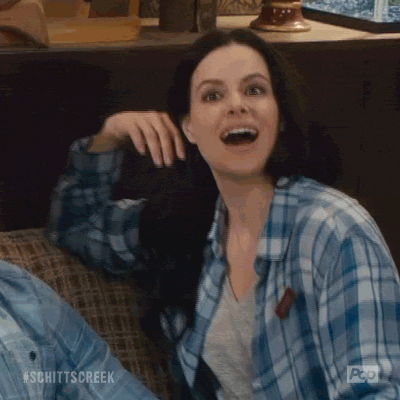 OMG. What a book! I didn't think it was possible to love Ottessa Moshfegh's work any more than I already did, but I was blown away by this Sundays's selection, 'My Year of Rest and Relaxation':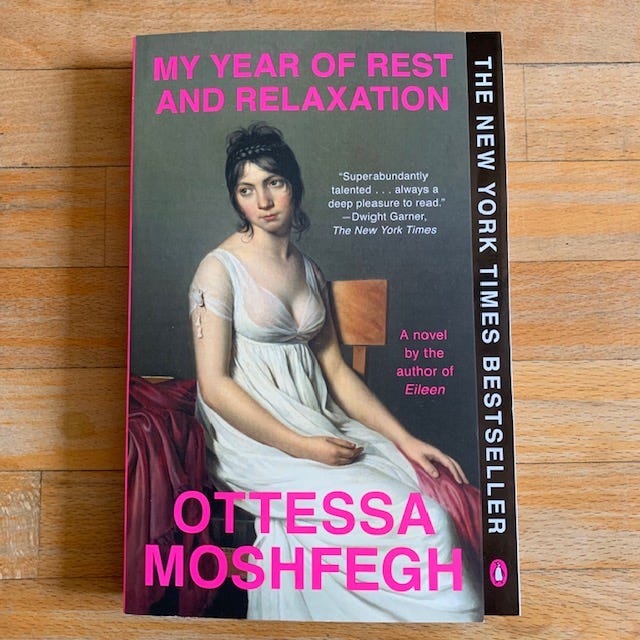 Long-time readers of Books on GIF may remember that previously I reviewed Moshfegh's debut novel, 'Eileen,' and her collection of short stories, 'Homesick For Another World.' I had been looking forward to reading 'My Year of Rest and Relaxation' for months, and Donna was kind enough to snag a copy for me during a work trip to Las Vegas. (I didn't know they had book stores in Vegas, lol!) This book exceeded my expectations, and I think it's so good that I almost don't want to tell you too much about it. I just want you to read it, and then email me so we can talk about it. You should know up front that this book is polarizing. Some people, including friends I respect and admire, have told me they thought it was boring and slow. Some even didn't finish it. Reasonable people can disagree, but I'm like: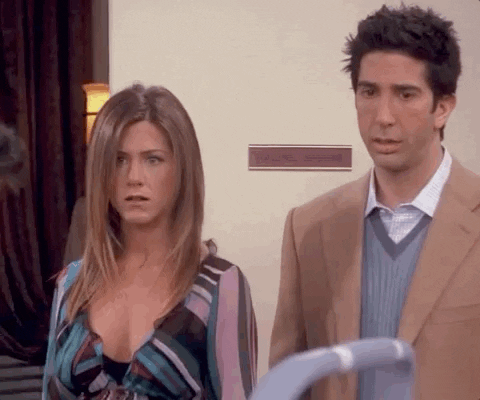 The story is set around the year 2000, and it involves an unnamed twenty-something woman who decides to sleep for an entire year. We learn that her sleep project has several root causes: unprocessed grief over the death of her parents (father: cancer; mother: alcohol-fueled suicide); a failed relationship with a guy named Trevor; and leaving her job at a Chelsea art gallery. When she's not sleeping, she's going to the bodega for two coffees and food, or watching Whoopi Goldberg and Harrison Ford movies over and over again on VHS, or being mean and judgmental to her one friend, Reva. The sleep project is financed by her inheritance, and she has an automatic set-up to pay her bills. She uses the yellow pages to find a quack psychiatrist to prescribe her increasingly stronger sleeping pills, eventually taking one called 'Infermiterol,' which causes her to black out for days. When she awakens from these blackouts, she discovers that she's been sleep-shopping online, or sleep-booking spa appointments, or going out to parties (she finds Polaroid evidence of this). One time she wakes up on the Long Island Rail Road wearing a white fur coat and carrying a shopping bag with formal clothes inside. She realizes that she's headed to the funeral of Reva's mother, which she had previously declined to attend. I don't want to spoil the rest, but I have to say that the last page of this book is one of the most startling and profound things I've ever read. I was like: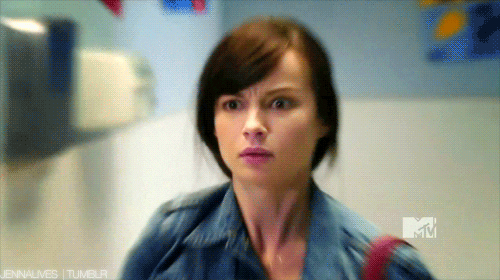 The thing I love most about this book is trying to figure out what it means. I came up with a theory or two. Even though it's set immediately before Sept. 11, 2001, perhaps it's a commentary on post-9/11 America. You could see the protagonist, a privileged white woman, as a stand-in for white America writ large. She uses sleep as a way to avoid her problems in the belief that doing so long enough will make them disappear. Isn't it the very definition of white privilege to have the freedom to shut one's eyes to the problems and struggles of others, like:
Perhaps the book is an affirmation that people deep down are good, and want to love and be loved in return. The protagonist is all of us at our worst: evaluating our success and self-worth relative to our friends, using others' misfortune or extra pounds to make ourselves feel better and just generally being like: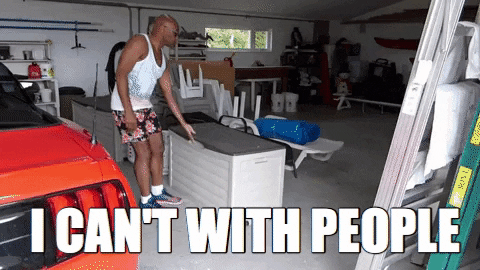 Despite that, when her subconscious guides her actions during the blackouts, she tends to do things that are good for her and others, like going to her friend's mother's funeral or going out to have fun. Or perhaps the book is a commentary on prescription drugs and the opioid crisis. On any given day watching TV, we are bombarded with ads that offer solutions to our ailments in pill form, like: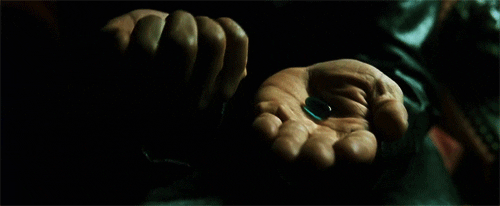 Maybe the book means something entirely different. Like I said earlier, send me a note with your thoughts. To me this is a great book that's delightfully dark and a quick read. You should read it.
How it begins:
Whenever I woke up, night or day, I'd shuffle through the bright marble foyer of my building and go up the block and around the corner where there was a bodega that never closed. I'd get two large coffees with cream and six sugars each, chug the first one in the elevator on the way back up to my apartment, then sip the second one slowly while I watched movies and ate animal crackers and took trazodone and Ambien and Nembutal until I fell asleep again. I lost track of time in this way. Days passed. Weeks. A few months went by. When I thought of it, I ordered delivery from the Thai restaurant across the street, or a tuna salad platter from the diner on First Avenue. I'd wake up to find voice messages on my cell phone from salons or spas confirming appointments I'd booked in my sleep. I always called back to cancel, which I hated doing because I hated talking to people.

Early on in this phase, I had my dirty laundry picked up and clean laundry delivered once a week. It was a comfort to me to hear the torn plastic bags rustle in the draft from the living room windows. I liked catching whiffs of the fresh laundry smell while I dozed off on the sofa. But after a while, it was too much trouble to gather up all the dirty clothes and stuff them in the laundry bag. And the sound of my own washer and dryer interfered with my sleep. So I just threw away my dirty underpants. All the old pairs reminded me of Trevor, anyway. For a while, tacky lingerie from Victoria's Secret kept showing up in the mail—frilly fuchsia and lime green thongs and teddies and baby-doll nightgowns, each sealed in a clear plastic Baggie. I stuffed the little Baggies into the closet and went commando. An occasional package from Barneys or Saks provided me with men's pajamas and other things I couldn't remember ordering—cashmere socks, graphic T-shirts, designer jeans.

I took a shower once a week at most. I stopped tweezing, stopped bleaching, stopped waxing, stopped brushing my hair. No moisturizing or exfoliating. No shaving. I left the apartment infrequently. I had all my bills on automatic payment plans. I'd already paid a year of property taxes on my apartment and on my dead parents' old house upstate. Rent money from the tenants in that house showed up in my checking account by direct deposit every month. Unemployment was rolling in as long as I made the weekly call into the automated service and pressed "1" for "yes" when the robot asked if I'd made a sincere effort to find a job. That was enough to cover the copayments on all my prescriptions, and whatever I picked up at the bodega. Plus, I had investments. My dead father's financial advisor kept track of all that and sent me quarterly statements that I never read. I had plenty of money in my savings account, too—enough to live on for a few years as long as I didn't do anything spectacular. On top of all this, I had a high credit limit on my Visa card. I wasn't worried about money.
My rating: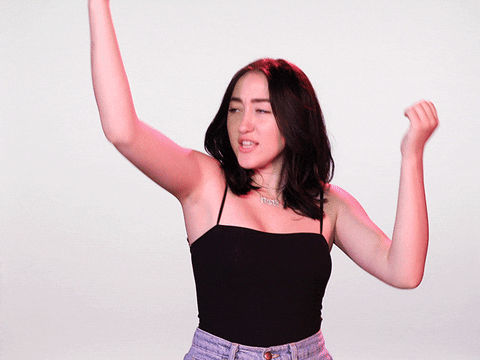 'My Year of Rest and Relaxation' by Ottessa Moshfegh was published by Penguin Books in 2018. 289 pages. $16 at The Writer's Block in Las Vegas.
---
Four for the road: More things worth your time.
---

In two weeks you'll get a review of 'Kudos' by Rachel Cusk. Also in the queue are 'The Great Believers' by Rebecca Makkai and 'In the Distance' by Hernan Diaz. Books on GIF will publish weekly during November with a special series called 'Novella November.'
In case you missed it: Books on GIF #112 featured 'Disoriental' by Négar Djavadi.
Shoot me an email if there's a bestseller, a classic or a forgotten gem you want reviewed.
Follow me on Twitter and Instagram.
Thanks for reading, and thanks especially to Donna for editing this review!
Until next time,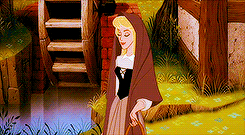 MPV