'Eileen' by Ottessa Moshfegh — Books on GIF Review #96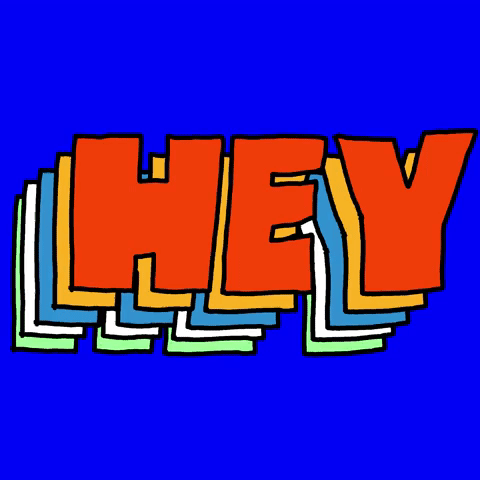 Welcome to the latest edition of Books on GIF, the animated alternative to boring book reviews. This Sunday's selection is 'Eileen' by Ottessa Moshfegh.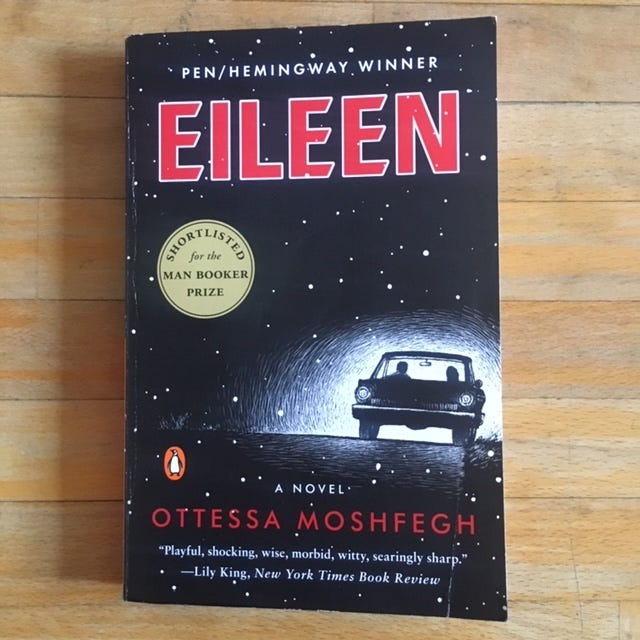 There's been a Christmas miracle!
Before I get into today's book, I need to tell you about the amazing thing that happened last week. Books on GIF got a wonderful Instagram shoutout from author Min Jin Lee, whose novel 'Pachinko' I included in my holiday gift guide. It was so kind and generous of her to repost my post with such a nice note; I was beaming for a week! You may remember that I loved her book, and that she got a real kick out of my review. Here's the post if you haven't seen it: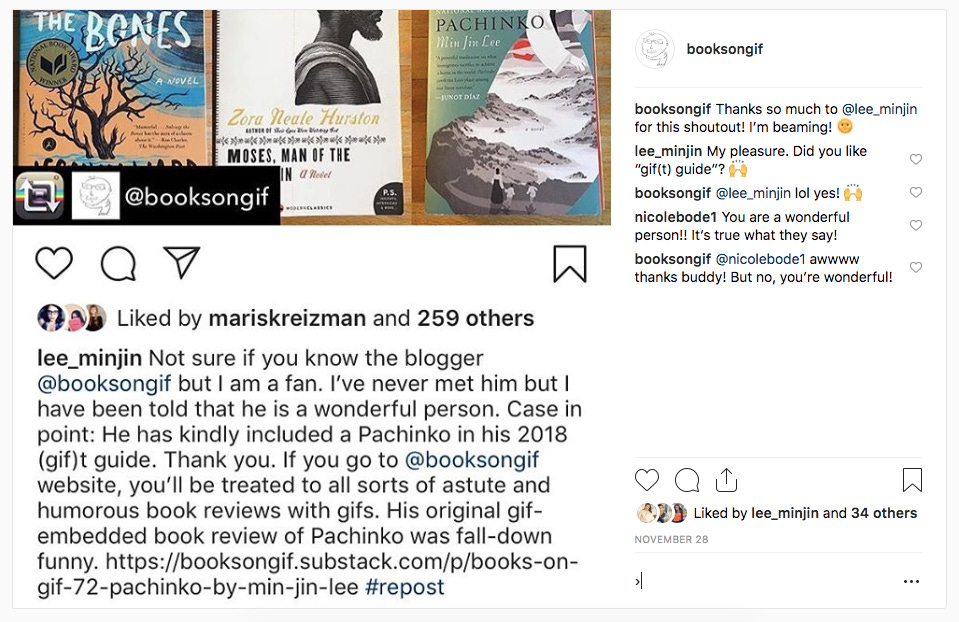 To all the new subscribers who found me through this post: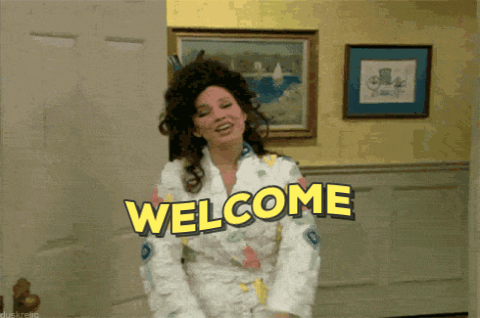 I hope you enjoy my reviews of random books using GIFs. You guys signed up at a good time because 'Eileen' is a great book that I really enjoyed. It's dark and weird while also poignant and beautiful. It's a story about loneliness, and the narcissism and despair caused by it. The story is narrated by a much older Eileen looking back on events during a week before Christmas 50 years ago, when she was 24, living in an unnamed New England town dubbed 'X-ville' with her alcoholic father and working at the local jail for teenage boys. It was a week that would change her life and force her to leave town and change her identity. But before we see why that happens, we are given a tour of Eileen's mundane and friendless life. Her mother is dead, her sister has moved away, and her ex-cop father is a paranoid drunk who raves about 'hoodlums' hiding in the shadows trying to get him. He craves gin, and he sleeps on a lounge chair placed in front of the kitchen oven to keep him warm. His shoes had been taken away from him so he can't leave the house. He has a habit of menacing people, waiving his service weapon around and pointing it out the window at passersby. When Eileen isn't shoplifting, sleeping on a cot in the attic, fussing about her bowels or procuring bottles of gin for her father, she's at the jail, helping with prisoner intake and making visitors fill in needless forms she's crafted. She also works on her 'death mask,' which is what she calls hiding her hate for her coworkers and everyone around her behind a completely blank face, like: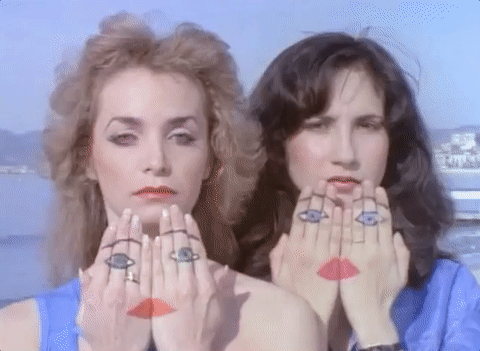 Moshfegh makes Eileen a vain and unlikeable character, so much so that you can't help but root for her. Life around her is so empty and miserable that her own awfulness is a defense mechanism against the day-to-day tedium. And just when the narrative starts to get tedious: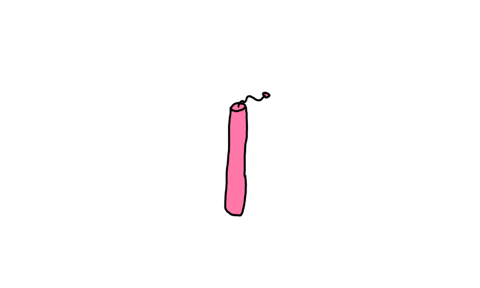 Plot twist! I won't spoil it here, but a character named Rebecca enters Eileen's life and does something that is so unexpected and great that I was like: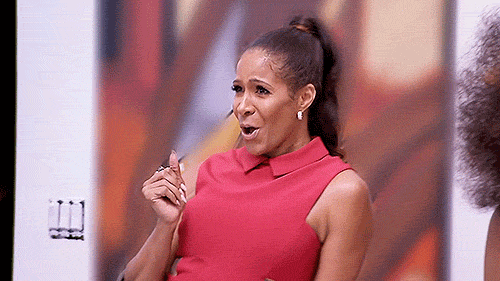 Since my review of 'Homesick for Another World,' I've become somewhat obsessed with Moshfegh's work. And when I found this book in the charming South Congress Books in Austin, Texas, I scooped it right up because I want to read everything she writes. I love the energy and beauty that crackles in her writing like static electricity. When Eileen is going to a party on Christmas Eve, she passes a nativity scene. Thinking the bottle of wine she's bringing isn't sufficiently adorned by a brown paper bag from the liquor store, she steals the golden blanket swaddling baby Jesus. When she removes the blanket, she discovers that 'Jesus' is a motor oil can. In another scene, after a bout with laxatives, she basks in the wonderful lightness we feel after a good dump. And in a third scene that I can't stop thinking about, Eileen denies a woman's request to visit her rapist at the jail. She tells the woman, who's white, that she can't see the imprisoned teen, who's black, unless she is a family member or spouse. The mention of marriage causes the woman to fly into rage and pick up an object and throw it. Was the teen really her rapist? Or was this scene a subtle commentary on the legacy of racism in New England? I was like: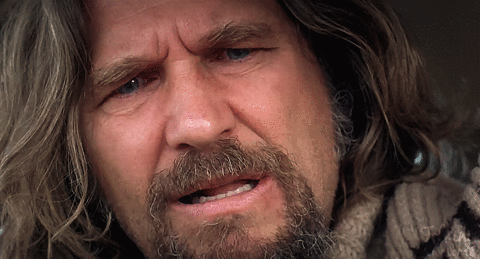 I think this is the perfect book to read during the holiday season. I wish I had read it sooner because I would have put it in my gift guide. This is the time of year when people feel most lonely and dark, myself included, and this book captures that mood in a morbid, honest and even fun way. It reminds us that the cure for loneliness is friendship, even though it goes awry here. But it doesn't have to for the rest of us. So reach out, be supportive and kind, like Min Jin Lee. A little bit can go a long way. And in the meantime, read this fantastic book.
How it begins:
I looked like a girl you'd expect to see on a city bus, reading some clothbound book from the library about plants or geography, perhaps wearing a net over my light brown hair. You might take me for a nursing student or a typist, note the nervous hands, a foot tapping, bitten lip. I looked like nothing special. It's easy for me to imagine this girl, a strange, young and mousy version of me, carrying an anonymous leather purse or eating from a small package of peanuts, rolling each one between her gloved fingers, sucking in her cheeks, staring anxiously out the window. The sunlight in the morning illuminated the thin down on my face, which I tried to cover with pressed powder, a shade too pink for my wan complexion. I was thin, my figure was jagged, my movements pointy and hesitant, my posture stiff. The terrain of my face was heavy and soft, rumbling acne scars blurring whatever delight or madness lay beneath that cold and deadly New England exterior. If I'd worn glasses I could have passed for smart, but I was too impatient to be truly smart. You'd have expected me to enjoy the stillness of closed rooms, take comfort in dull silence, my gaze moving slowly across paper, walls, heavy curtains, thoughts never shifting from what my eyes identified—book, desk, tree, person. But I deplored silence. I deplored stillness. I hated almost everything. I was very unhappy and angry all the time. I tried to control myself, and that only made me more awkward, unhappier, and angrier. I was like Joan of Arc, or Hamlet, but born into the wrong life—a life of a nobody, a waif, invisible. There's no better way to say it: I was not myself back then. I was someone else. I was Eileen.
My rating: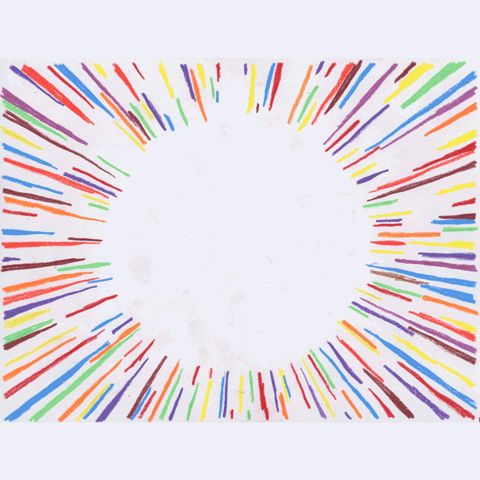 'Eileen' by Ottessa Moshfegh was published by Penguin Books in 2016. 260 pages. $12 at South Congress Books in Austin, Texas. Used.
In case you missed it: Books on GIF #95 featured 6 Fantastic Books to Give as Holiday Gifts.
What's next: In two weeks you'll get a review of 'The Final Days' by Carl Bernstein and Bob Woodward. Also in the queue are 'Rage Becomes Her' by Soraya Chemaly, 'Unclaimed Baggage' by Jen Doll and 'No Matter How Much You Promise to Cook or Pay the Rent You Blew It Cauze Bill Bailey Ain't Never Coming Home Again' by Edgardo Vega Yunqué.

Shoot me an email if there's a bestseller, a classic or a forgotten gem you want me to review.
Follow me on Twitter and Instagram.
Thanks for reading, and thanks especially to Donna for editing this review!
Until next time,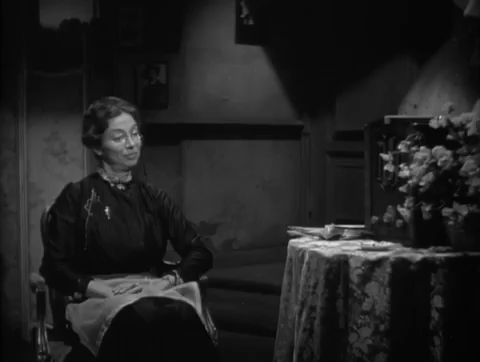 MPV