Books on GIF #105 — 'The Deeper the Water the Uglier the Fish' by Katya Apekina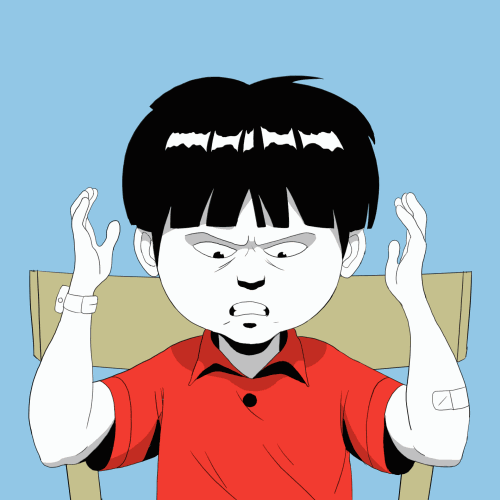 Welcome to the latest edition of Books on GIF, the animated alternative to boring book reviews. This Sunday's selection is 'The Deeper the Water the Uglier the Fish' by Katya Apekina.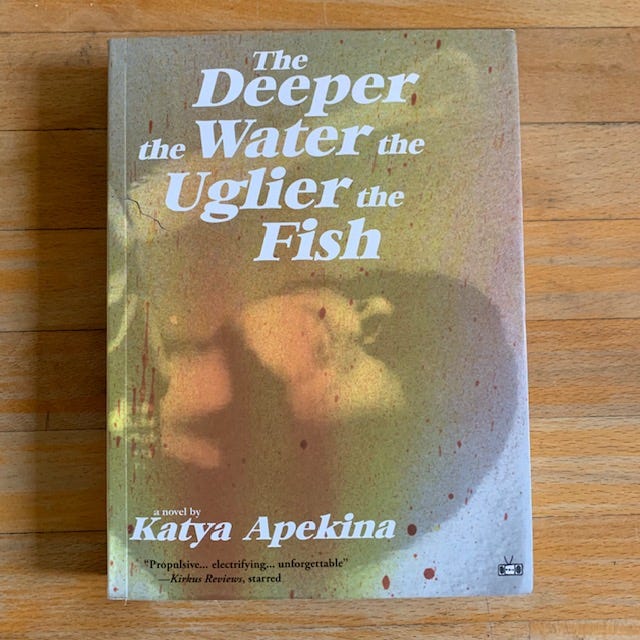 I'm going to come right out and say it this week, guys. This is an excellent novel, and I loved every page of it. I couldn't put it down. It's intense, dark and somewhat disturbing, while also strangely beautiful and full of energy. It felt like something I had never seen before, like stingrays trying to fly:
I might never have found Apekina's novel were it not for longtime BoG collaborator Leslie flagging this tweet. I was drawn immediately to the title, which belongs in some kind of book title hall of fame, and set out to find it on my rounds of New York City's independent book stores. (Check out my Instagram post about all my favorite indie book stores in New York and elsewhere in honor of yesterday's Independent Bookstore Day!) In February, I happened to be at the Strand and passed a display of books from independent publishers. I searched the top of the table. No dice. I found it below on the: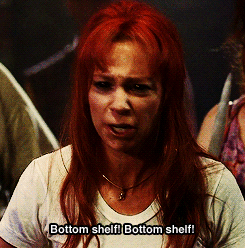 'The Deeper the Water the Uglier the Fish' is a novel best read in 'a bathtub of your own tears,' according to the publisher's notes on an inside page. The story follows two teenage sisters, Mae and Edith, who have been sent to live with their father, a famous author, in New York City in 1997 after their mother is institutionalized following a suicide attempt in their Louisiana home. Mae is happy to be reunited with their long-estranged father and to be free of their mother, whom she found oppressive due to her strange behavior that included hours spent following around random strangers. Edith, however, has no interest in reconnecting with their father, Dennis, and wants instead to return to Louisiana to be with their mother, Marianne. Edith eventually runs away with an older boy from the apartment downstairs who agrees to drive her all the way back. After her sister's departure, Mae's desire for her father's attention and love grows extreme. She becomes his muse by emulating her mother in outrageous and incestuous ways as he bangs away at the typewriter on his next novel. I don't want to spoil what happens to the girls, because half the joy of reading this book is being surprised by its twists and turns, but I think the best GIF for it is:
I love how this book nails the way teenagers think they understand their parents, but really have no idea who they are, who they were before they had children, why they fell in love and why they divorced. I also love how the book ends on a note akin to a horror movie. But my favorite thing is how the novel is structured. Apekina's story feels very much like an oral history, with major and minor characters recounting events from their perspectives, but at different times. Edith, for example, is narrating her section as it's happening, while Mae is looking back on the events years later. Woven in are accounts from other characters, including a woman who runs an art gallery, an old woman who lives across the street, Dennis's stalker-ish girlfriend, and other family members and friends. There's also therapy notes, book review excerpts and letters. No one is a truly trustworthy narrator, they misunderstand and get things wrong. But the reader is able to use details gleaned from each character like a source to corroborate information and piece the narrative together. For example, when Edith finds her mother in the hospital, she sees that her hair is askew and believes doctors have been mistreating her and cutting it off. Then, in a subsequent section, Marianne's hospital roommate says that she had been biting her own hair off. The roommate also gives us a different perspective on the brutal exchange that ensues between mother and daughter. Reading this book felt like exciting journalism; or like 'Game of Thrones' meets 'Rashomon' meets 'The Pentagon Papers.' I LOVE this kind of thing, where an author pulls off a creative and original feat of storytelling. I haven't been this excited since I read 'Eileen' by Ottessa Moshfegh. I'm like:
I was in the Strand again recently and saw that 'The Deeper the Water the Uglier the Fish' was now on top of a display table in a slightly more prominent location. I hope this is a sign that people are starting to recognize what a gem this book is. Apekina was a 2018 finalist for a Los Angeles Times book award for first fiction, and I'm excited to read what she publishes next. (Another nominee was Lisa Halliday and her debut, 'Asymmetry,' which I reviewed in March.) If you enjoy provocative stories that are beautifully told, you should read this book.
How it begins:
Edith (1997)

It's our second day in New York City. We're with Dennis Lomack. Mom is in St. Vincent's, resting. She has recently done something very stupid and I'm the one who found her. Dennis has been taking us around town, trying to get our minds off of everything, trying to make up for the last decade.

Tonight, he brought Mae and me along on a date with a redhead to a dance recital. Mom would take us sometimes into New Orleans to see The Nutcracker, but this isn't like that. We're in the basement of a church. It's cramped and damp. On stage a woman in a white sundress dances by herself. She looks like a feral cat. Her rib cage shows on the sides and down the front. She has thick dark hair that sways at her waist as she moves. The stage is covered in folding chairs and she dances with her eyes squeezed shut. She seems aware of nothing, banging her legs and arms and not even noticing. The chairs collapse and fall around her and she keeps going. She slows and cocks her head at an angle as if she's listening for something, then makes little twitchy movements with her hands. Even from my seat, I can smell her dirty hair. It wafts with each spin.

She blurs and I realize I'm crying. I don't know why.

That's not true. I do. It's because she reminds me so much of Mom. The way she dances, so desperate, but also so closed off. She isn't dancing for us. She's somewhere deep inside herself and the seats could be empty and still she'd dance like this.
My rating:
'The Deeper the Water the Uglier the Fish' by Katya Apekina was published by Two Dollar Radio in 2018. 353 pages. $15.29 at Strand Book Store.

In two weeks you'll get a review of 'The Friend' by Sigrid Nunez. Also in the queue are 'The Seas' by Samantha Hunt, 'The Autobiography of Gucci Mane' by Gucci Mane and 'The Secret Life of Plants' by Peter Tompkins and Christopher Bird, among others. 
In case you missed it: Books on GIF #104 featured 'Our Lady of the Nile' by Scholastique Mukasonga.
Shoot me an email if there's a bestseller, a classic or a forgotten gem you want reviewed.
Follow me on Twitter and Instagram.
Thanks for reading, and thanks especially to Donna for editing this review!
Until next time,
MPV