Discover more from Books on GIF
A 'brilliant high-low fusion of an old art form and modern story telling device.' - Esquire.
Over 3,000 subscribers
'Italian Folk Magic' by Mary-Grace Fahrun
'You're wearing gold and coral earrings. Good, because this place is full of vipere (vipers).' — Review #140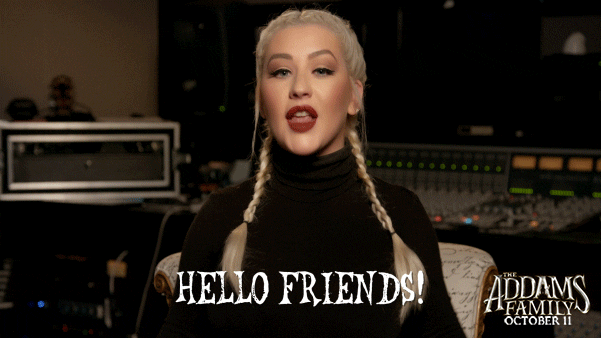 Have you ever heard of divination from books? Where you turn to a random page in a text and interpret meaning from the first words you see? I hadn't before I read Mary-Grace Fahrun's 'Italian Folk Magic,' and I just tried it because I was struggling to start this review. Following Fahrun's instructions, I went to my bookshelf and found a book that's important to me—'Siddhartha' by Hermann Hesse—sat down on the couch and held the book while I asked it, 'How should I start this review?' I let my thumb flip the pages until it found a place. Siddhartha was discussing love. I tried again. Siddhartha was talking about love there, too. At first I thought, 'well this "book oracle" stuff doesn't work, because love doesn't seem relevant here.' Then it hit me. This is exactly what I want to talk about. While love is mentioned frequently in the book, it's only on a surface level and often conditioned by charms and spells, not real connections between people. I'm sure she would disagree, but by the end of this review, you'll see what I mean. First, here's the cover: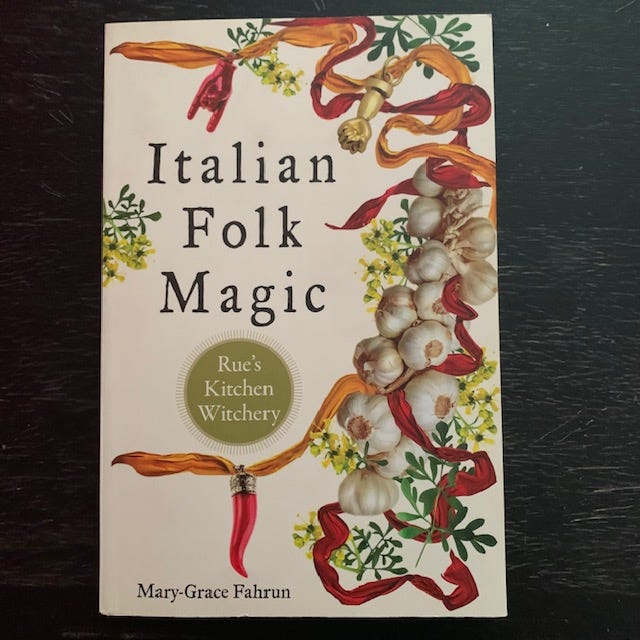 ---
If you enjoy this review, click the ♥️ above or
---
I know I wasn't scheduled to send another newsletter until next week, but I tore through this book and figured I'd share my thoughts early. 'Italian Folk Magic' was a gift from our dear friend Heidi after we moved to our new apartment. (She also gave us sage and palo santo sticks to burn to cleanse the space.) Some of you may remember she recommended it during Books on GIF's virtual 4th anniversary party a few months back. (Keep an eye out for an invitation to our next virtual event.) Heidi, Donna and I all have Italian-American family backgrounds, so I hoped to better understand and connect with that history. In many ways I did. I read passages from this book over the phone to my mother and father, particularly about detecting and warding off the 'evil eye' (the malocchio), which was a prime concern for my paternal grandmother and great aunts and uncles, and we had a lot of fun laughing and reminiscing about them. It made me long for a time when we could all gather around a table and spend hours eating, drinking, talking and toasting: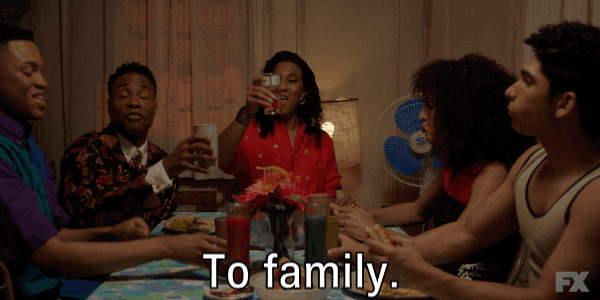 I was inspired by Fahrun's emphasis on honoring and drawing strength from one's ancestors, and I created a small space on my desk for my grandmothers—with their pictures, funeral Mass cards and related items—where I can see them while I'm working. Their presence comforted me during a busy week. I also liked Fahrun's emphasis on communing with nature and speaking to plants and animals, although her story about befriending some crows that guard her parking space at work was weird. Fahrun suggests growing your own herbs, which I think is a great idea. Donna and I plan to do that. And I liked the book's repeated stress on order and cleanliness in the home. We plan to double our efforts at cleaning like: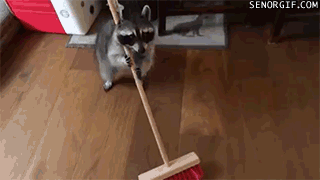 But other aspects of the book gave me concerns, starting with her recipes. Though the book is billed as offering kitchen 'witchery,' I found very little magic in the spaghetti with butter recipe that is JUST SPAGHETTI WITH BUTTER (and some cheese). No fresh basil from the garden. No herbs. And then there's the tomato sauce. Are you sitting down? This tomato sauce contains no garlic. No onion (you put it in, then remove it). No garlic powder. No onion powder. No oregano. No rosemary. No thyme. Just 'salt and pepper to taste.' That's it! It's basically just boiled tomatoes, meat and water. WHO DOESN'T PUT AT LEAST GARLIC IN THEIR 'SUNDAY GRAVY'? (My grandmother did.) You're supposed to hang garlic around the house to ward off evil spirits and throw salt over your shoulder for good luck. How about throwing some of those into the sauce? Why are we supposed to grow our own herbs if not to use them? I wasn't expecting eye of newt and toe of frog here, but what healing powers are we supposed to derive from this? I thought at least there'd be some creative ingredients. Nope. I was aghast, like: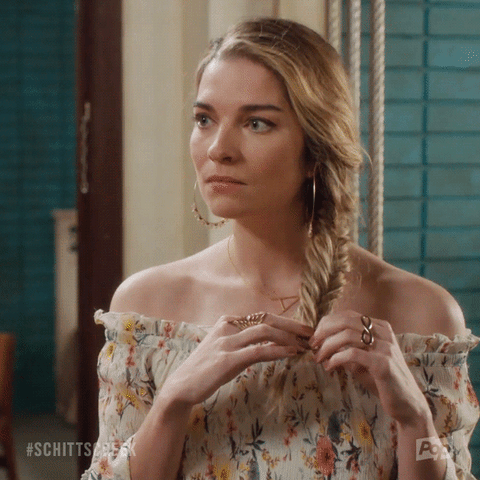 But the book didn't go completely off the rails for me until I got to a page about how to win over a mother-in-law who doesn't like you. Step one: Steal sugar from her kitchen and bake her favorite cookies with it. OK, fine. Step two—Are you still sitting down?— PUT A DROP OF BLOOD FROM YOUR RING FINGER INTO HER COFFEE. And step three is to SPIT in the coffee. Again, I was like:
I don't understand how you can write a book that advocates putting blood into someone's coffee or spitting into it. I don't care if that's some 'tradition.' That seems mean and unsafe. This gets me to the point I made earlier about love. Often it feels like Fahrun crosses the line from describing Italian curses and spells to advocating for them. I'm someone who believes very strongly that the energy you put into the world will come back to you. Fahrun describes how to apply a revenge curse or cast a spell to make someone fall in love with you, and this felt tremendously negative to me. Blood in coffee? Revenge curses? If you put this kind of negative energy into the world, how can you expect it won't revisit you? I was puzzled why Fahrun never paused and asked herself about this. It would seem to me that if she wanted her book to help people, she would omit some of these things, at least for hygiene's sake. With a little bit of introspection, she might have realized that you don't need charms made from cemetery dirt to ward off the malocchio. Living well and being a good person will do that for you no matter how askance some 'vipers' may look at you. She might have realized that spells are not needed to make someone fall in love with you. Being a kind and interesting person accomplishes this without any incantation. While it doesn't solve everything, if you put positive energy into the world:
I wish Fahrun would have done more research and investigation to give us a thicker sauce of information about Italian folk magic instead of the thin soup of family anecdotes and ephemera that we got. Even so, I'm happy I read the book, and I will be thinking about it for a while. I will think about it when I plant my rosemary, basil and sage. I will think about the Munaciello trickster spirit whenever anything goes missing. I will think about it when consulting the book oracles. And I will think about family and when we all can safely return to the table together to share a good meal that probably will contain garlic. And love.
How it begins:
Saturday night was my favorite night growing up. We would arrive at my aunt and uncle's house around three in the afternoon. The table would already be set with bowls of nuts, olives, and lupini beans. The sweet and yeasty aroma of rising dough filled the kitchen. I could hardly contain my excitement. I knew this aroma meant my zia would be making pizza and pizza fritta soon. Everyone would sit at the kitchen table—the uncles at one end, playing briscola or Tre-Sette; the aunts at the other end, sharing the latest sewing project.

Then there was me. A very observant six-year-old, I picked the best seat in the house. I sat right in the middle of the long table between the aunts on one side and the uncles on the other. I would sit there for hours. I would watch my uncles play cards. I watched very closely—learning the card games and then playing them against myself with a spare deck of Neapolitan cards. I observed very intently. I knew which uncles cheated. I would make eye contact, and that uncle would wink at me to not reveal our secret. There was always five or ten dollars in it for me. In hindsight, I realize the stakes were quite high for me to get five to ten dollars just for keeping a secret. It was 1974.

My aunt's house was always full of people on Saturdays. The front door opened and closed all day as people dropped in to visit. Some would stay a while, have a drink and something to eat, and then go. Others would come and stay the whole day, well into the wee hours of Sunday morning.
My rating:
'Italian Folk Magic' by Mary-Grace Fahrun was published by Weiser Books in 2018. 219 pages. $17.43 at Bookshop.org.
Have you read this book, too? Got something to say? Join the conversation and:
Up next:
Review #139: 'I Hotel' by Karen Tei Yamashita
Support BoG: Twitter | Instagram | Goodreads
Contact me: booksongif@gmail.com.
Before you go:
Click this: I subscribe to a cool newsletter called KitchenWitch that "celebrates all the magic that can be made in the kitchen." The latest edition includes recipes for making a 'Magical Elderberry Syrup' as well as a tasty-sounding gazpacho that contains garlic and other seasonings. If you're looking for more useful witchery, check them out!

Read this: My friend Allegra Hobbs wrote the only good 'Why I'm Leaving New York' essay. Her piece for Study Hall, leavingnyc_god_devil_draft1.docx, is powerfully honest and beautiful. I also love the format, with the editing notes included at the bottom. (Fun Fact: Allegra is the very first person to subscribe to Books on GIF!)

Also, click this: If you follow BoG on Twitter, you'll see we've been posing weekly questions. Here's the most recent one:

There have been great responses so far, from Ron Chernow's 'Hamilton' to 'In the Dream House' by Carmen Maria Machado. If you've got a favorite summer read, reply to the tweet to share it with the BoG community!
Thanks for reading, and thanks especially to Donna for editing this newsletter!
Until next time,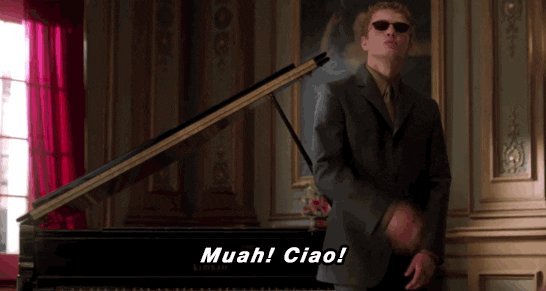 MPV
Review #140 used GIFs from 

Giphy.com

.
---
Books on GIF newsletters with most ♥️s