'A Fine Balance' by Rohinton Mistry
Review #134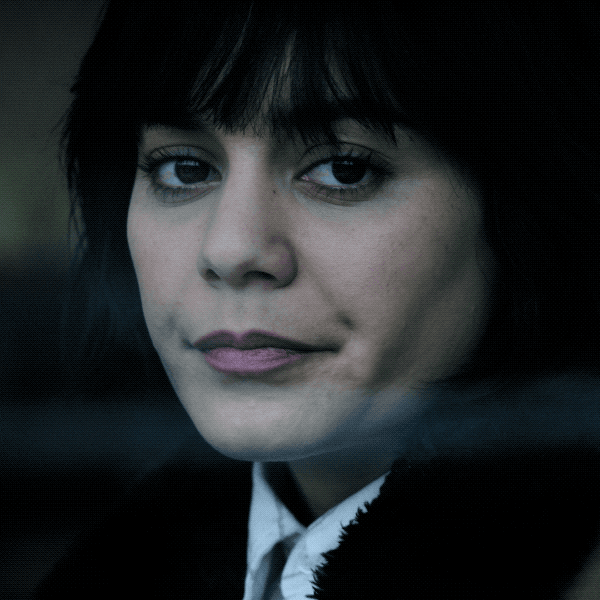 Happy Mother's Day! This is the perfect book to read while stuck inside during a pandemic. It's long, gripping and tells a beautiful and heartbreaking story. If I could go back in time to add to the '9 Novels to Help You Endure the Coronavirus Crisis' newsletter I sent back in March, I would include near the top of the list this Sunday's selection, 'A Fine Balance' by Rohinton Mistry: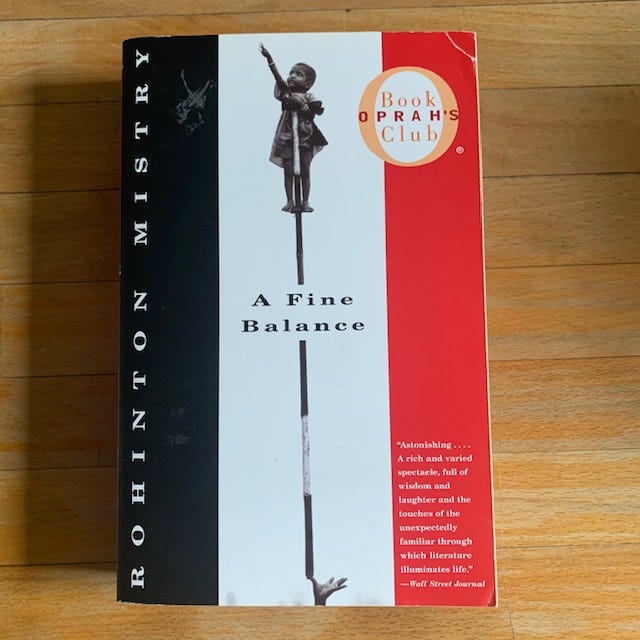 ---
Were you forwarded this email? Subscribe here.
---
Radhika recommended this Booker Prize finalist to me three years ago while I was traveling in Thailand and looking for something to read. She sent me an email with several options, including this novel and 'Midnight's Children' by Salman Rushdie. A small English-language used bookstore called Dāsa Book Cafe had both. I chose 'Midnight's Children,' which I reviewed back then, but I should have gone with this instead. Eventually, I picked it up at Boston's Brattle Book Shop in late 2017, along with John O'Hara's 'BUtterfield 8,' and it has sat in my bedside pile ever since. What a mistake it was to overlook this gem for all that time. Thanks again, Radhika, for your recommendation. I should have listened to you sooner: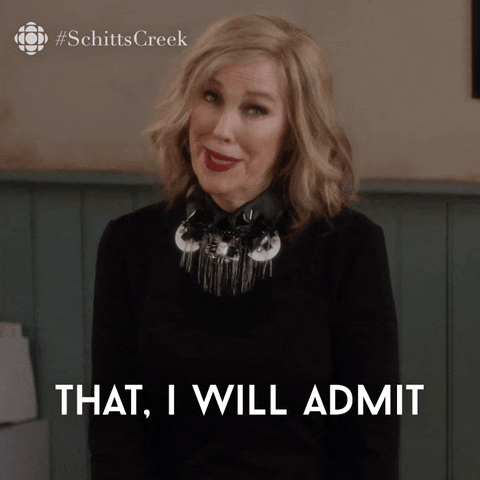 The story is set in an unnamed city in India in 1975. Two tailors from a rural village and a college student from the mountains meet on a train bound for the city. Turns out they're all headed to the same place: Dina Dalal's apartment. To live independently from her overbearing brother and to afford the rent, Dina, a widow, has decided to bring in a paying guest and to start an in-home dressmaking factory. The tailors, Ishvar and his teenage nephew Omprakash, are going to assemble the clothes and save money before returning to their hometown. The student, Maneck, is renting her room to avoid staying at the school's foul and bedbug-ridden hostel. As the group comes together in Dina's flat, the story breaks off into their backstories. We see Ishvar and Omprakash's family struggle against the caste system, breaking from their preordained roles as leatherworkers to become tailors. We see Dina young and happily married to Rustom, who loved to bicycle through the city before he was hit by a bus and killed. We see Maneck, the apple of his parents' eyes, who wanted nothing more than to stay with them and help run the family shop, but was sent away to school to earn a certificate in air-conditioning repair in hopes of securing his future. Back in the apartment, we see the foursome overcome their ignorance and prejudices about each other and become close. Dina is originally aloof to the tailors, but comes to empathize with them and allows them to live on her porch when they become homeless. She initially insists that Maneck refer to her as Dina Aunty, but she takes on a more motherly role as she gets to know him. Omprakash and Maneck become very close, almost like brothers. They become a makeshift family, proving that: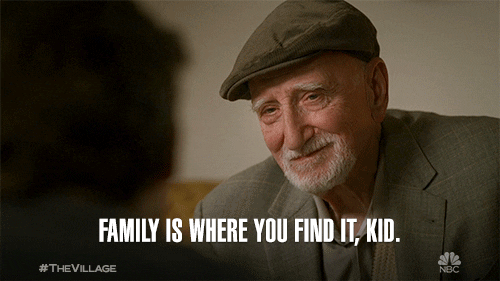 But danger lurks outside the apartment door. The landlord wants to evict Dina because of her tenant and her workers, even sending thugs to intimidate her and the others. Meanwhile, the prime minister (an unnamed Indira Gandhi) has declared an 'Emergency,' setting off a wave of political oppression, religious violence and brutality against the poor that serves as a backdrop and constant threat to the protagonists, particularly Ishvar and Omprakash. We see the shack where they stay when they first come to the city suddenly bulldozed for slum clearance. After being forced to sleep on the streets, we see them get rounded up by the police and sent to a forced-labor camp in an effort to keep the sidewalks clear of the homeless and beggars. We see them rounded up again in a government-run forced-sterilization effort. And we see a flashback where their family is burned alive in their home under orders from a powerful high-caste village leader because Omprakash's father demanded to vote honestly in a rigged election. This story is a constant reminder that the poor are forced to bear the brunt of the callous, corrupt and unjust acts of government, and that: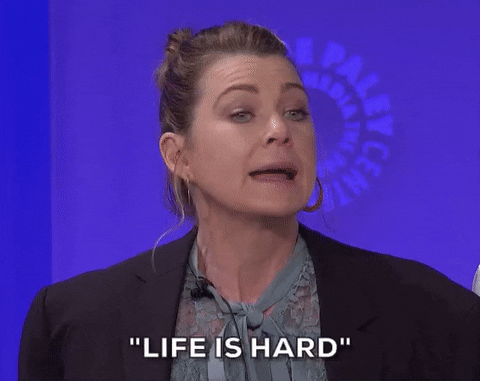 'A Fine Balance' is populated by many memorable characters beyond the four protagonists. For me, the most interesting was Beggarmaster, who supervises the beggars in the area around Dina's apartment and who rescues Ishvar and Omprakash from the labor camp. He is a complex character—morally indefensible and also compassionate—who in many ways symbolizes the fine balance referenced in the book's title: between beauty and cruelty, hope and despair, order and chaos, life and death. He uses his power to save Ishvar and Omprakash, so long as they pay him a weekly fee. He attends to the needs and safety of the street beggars, but he is also responsible for many of their physical disfigurements. When he discovers one of those beggars is his own brother, he sends a barber over to give him a shave. Other characters I'll be thinking about for a while include Rajaram the hair collector, and the gigantic worm parasite that is expelled from Omprakash's bowels. Yes, I'll be reliving that scene in my nightmares: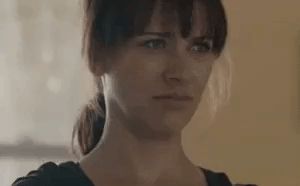 I was originally going to say that 'A Fine Balance' is about family and the human connections we make that support and fortify us in troubling times. But I think it's actually about something deeper. Now, I think this is a book about the fine balance between the pain and joy of memories. Here is a passage I underlined from page 330:
How much Dina Aunty relished her memories. Mummy and Daddy were the same, talking about their yesterdays and smiling in that sad-happy way while selecting each picture, each frame from the past, examining it lovingly before it vanished again in the mist. But nobody ever forgot anything, not really, though sometimes they pretended, when it suited them. Memories were permanent. Sorrowful ones remained sad even with the passing of time, yet happy ones could never be re-created—not with the same joy. Remembering bred its own peculiar sorrow. It seemed so unfair: that time should render both sadness and happiness into a source of pain.
I will think about the bittersweet beauty of that passage, which is just a sample of Rohinton Mistry's wonderful and brilliant writing, for a long time. I also will think about the quilt Dina made from scraps of fabric left over from the dressmaking. Each panel was symbolic of a different memory of her time with Maneck, Ishvar and Omprakash, as was its unfinished corner. The scene near the end of the book where Maneck encounters the quilt again years later is one of the most heartbreaking I've ever read. It's been a long while since I was nearly moved to tears by a book. When I read this yesterday morning over breakfast I literally was like: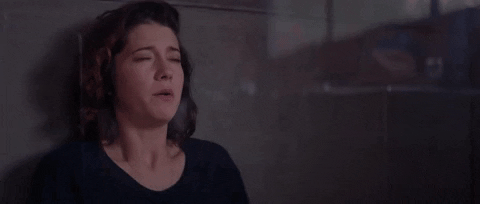 But the book is not entirely sad. I think it's brutally honest. Yes, there is evil and darkness in the world, which undoes some of the characters. But there is also love and hope, which keeps others going. Everything is a balance. If you took my recommendation and read Min Jin Lee's 'Pachinko,' I think you would enjoy this book. It's intense and beautiful, and you all should read it.
How it begins:
The morning express bloated with passengers slowed to a crawl, then lurched forward suddenly, as though to resume full speed. The train's brief deception jolted its riders. The bulge of humans hanging out of the doorway distended perilously, like a soap bubble at its limit.

Inside the compartment, Maneck Kohlah held on to the overhead railing, propped up securely within the crush. He felt someone's elbow knock his textbooks from his hand. In the seats nearby, a thin young fellow was catapulted into the arms of the man opposite him. Maneck's textbooks fell upon him.

"Ow!" said the young fellow, as volume one slammed into his back.

Laughing, he and his uncle untangled themselves. Ishvar Darji, who had a disfigured left cheek, helped his nephew out of his lap and back onto the seat. "Everything all right, Om?"

"Apart from the dent in my back, everything is all right," said Omprakash Darji, picking up the two books covered in brown paper. He hefted them in his slender hands and looked around to find who had dropped them.

Maneck acknowledged ownership. The thought of his heavy textbooks thumping that frail spine made him shudder. He remembered the sparrow he had killed with a stone, years ago; afterwards it had made him sick.

His apology was frantic. "Very sorry, the books slipped and—"

"Not to worry," said Ishvar. "Wasn't your fault." To his nephew he added, "Good thing it didn't happen in reverse, hahn? If I fell in your lap, my weight would crack your bones." They laughed again, Maneck too, to supplement his apology.
My rating: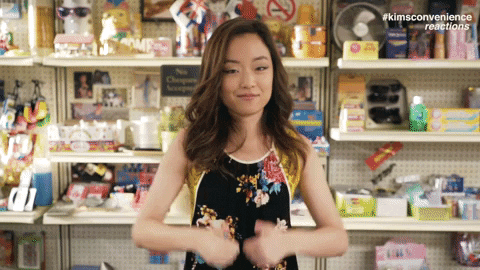 'A Fine Balance' by Rohinton Mistry was originally published in Canada by McClelland & Stewart Inc. in 1995. It was first published in the United States by Alfred A. Knopf in 1996. It was published by Vintage International in 1997. 603 pages. You can call the Brattle Book Shop to see if they have it. Otherwise you can order it from another of my favorite Massachusetts bookstores, Brookline Booksmith, for $18.
---
More things worth your time:
Read this: I have to lead off with Taffy Brodesser-Akner's latest profile, of Val Kilmer, not just because it's fascinating, poignant and weird, but also because she references a GIF. This one:

Also: Don't send the painting back, Taffy!

Read this, too: This week I learned about the Honey & Wax Book Collecting Prize, an annual award to honor a book collection conceived of and curated by a young woman. I learned about it by reading this Twitter thread about book collecting myths by rare book dealer Rebecca Romney.

Also, read this: The aforementioned Brattle Book Shop is offering to help you improve your background for your Zoom calls. We all have silently judged the bookshelves we see in meetings with coworkers or friends, but now the Brattle will help improve yours. The Boston Globe writes:

Here's how it works: A person interested in sprucing up their home or office reaches out to the bookshop with a general idea of what they want to pull off. From there, the staff compiles stacks of literature that might be a good fit. They then style the books on a display shelf in the store, and send pictures to the potential client. If the customer approves, the store either ships the books off, or holds them for curbside pickup from the shop's downtown location.

Do this: In case you missed it, Books on GIF turned 4 on Friday. To celebrate, I'm hosting a Zoom event Saturday, May 16 at 3 p.m. ET. It's going to be a show-and-tell: Bring a book you'd love to tell us about. It will also be great to e-meet you and catch up on life and the future of BoG. If you would like to attend, email me at booksongif@gmail.com to get the Zoom link and passcode.
---

Next week you will get a review of 'The Bell Jar' by Sylvia Plath. Also in the queue are, 'S.P.Q.R.' by Mary Beard, 'The Decameron' by Giovanni Boccaccio, and 'Positively Fifth Street' by James McManus, among others.
In case you missed it: Books on GIF #133 featured 'Free Day' by Inès Cagnati and 'The Last Mosaic' by Elizabeth Cooperman and Thomas Walton.
Shoot me an email if there's a bestseller, a classic or a forgotten gem you want reviewed.
Please click the heart button above if you enjoyed this newsletter. You can also share it with a friend:
Follow me on Twitter and Instagram.
Thanks for reading, and thanks especially to Donna for editing this newsletter!
Until next time,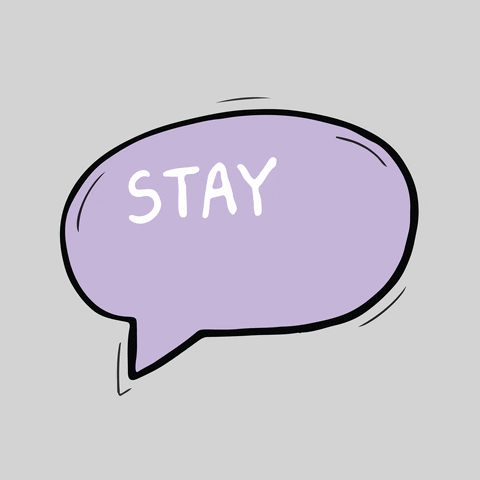 MPV