Books on GIF #51 — 'Midnight's Children' by Salman Rushdie
Hello everyone!
I'm back ... again! Sorry to have left you all in the lurch since my review of 'The Luminaries' a few weeks ago. This Sunday's book is 'Midnight's Children' by Salman Rushdie.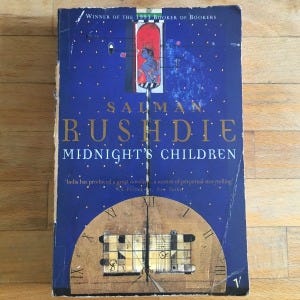 I picked it up at the Dāsa Book Cafe, a cool second-hand book store in Bangkok. I went there armed with an excellent list of recommendations from Radhika, and was torn between this book and 'A Fine Balance' by Rohinton Mistry. I had wanted to read Rushdie for a long time, so I picked up 'Midnight's Children' while vowing to Mr. Mistry: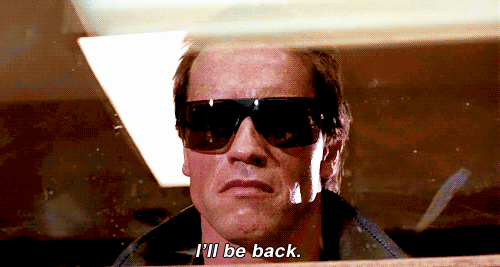 'Midnight's Children' not only won the Booker Prize in 1981, but it was also chosen as the Booker of Bookers: the best among the first 25 years of winners. So, yes, this is a very important work of capital-L Literature, and you will need to have your mind fully engaged to follow the story. As I was reading, I chuckled to myself thinking about the scene in 'Pee Wee's Big Adventure' when Dottie demands Pee Wee's 'undivided attention' and he goes: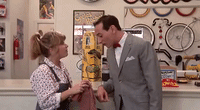 I found myself making that face often. This novel is DENSE and complicated, so I would not recommend reading it, like I did, if you're trying to overcome jet lag or the stresses of a new job. It took me a month and a half to finish! Anyway, Saleem Sinai is born at the exact moment —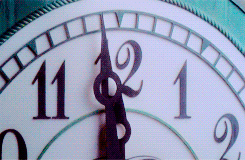 — of India's independence in 1947, and his fate is intertwined with the nation's. In fact, it seems he and his family members are always either present for or directly involved in pivotal moments in its history from the fall of colonialism, to the liberation of Bangladesh, to the Emergency during Indira Gandhi's administration.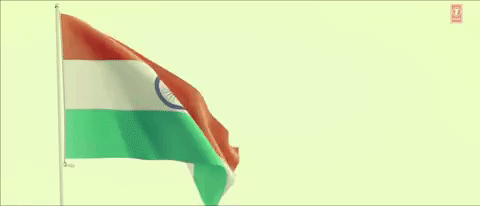 During his childhood in Bombay, Saleem learns that he was not actually the first child born after midnight, but the second, because he was switched at birth with another boy. He also learns that he is telepathic and can read minds, see through other people's eyes and communicate with the hundreds of other children who were also born during the first hour of India's independence. (The other midnight children also have powers: one is a witch, one can fly, one can change genders, and so on.) Later, Saleem moves to Pakistan, where his sister becomes a famous singer. After that, much of his family is killed in an Indian air strike. He enters the army where he's tasked with tracking down dissidents seeking to free Bangladesh from Pakistan. He is able to track these people due to his huge and highly sensitive nose, another super power. During the war in Bangladesh, he and three other soldiers get lost in the Sundarbans jungle and go on a vision quest. After the war, he lives with a snake charmer. And finally, he ends up back in Bombay, working in a factory that makes chutney. I know what you're thinking: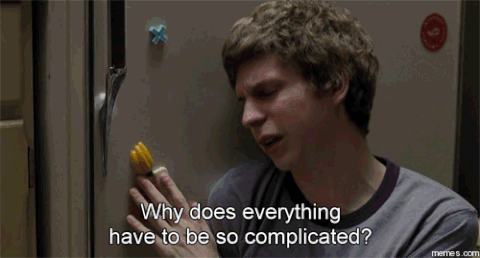 Apparently, the previous reader of my copy thought so, too. They gave up 317 pages in, as evidenced by a dog-eared page. But there is some truly great writing in 'Midnight's Children.' My favorite scene comes near the beginning when Saleem is describing how his grandparents met. His grandfather, a doctor named Aadam Aziz, is summoned to treat the daughter of a prominent man. Codes of modesty prohibit him from seeing the young woman directly, so he is forced to examine her though a hole in a bed sheet stretched between them. She continues to complain of various ailments and each time Aadam comes, he sees a different sliver of her. Over time he falls in love with the pieces, and the complete woman he conjures in his mind. Their marriage isn't a happy one, however, and I thought this scene was a great metaphor/cautionary tale about love. True love is greater than the sum of all of someone's parts.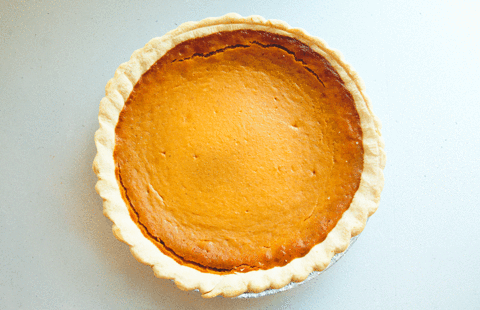 Anyone who loves literature or wants to know more about the history of India should read this book. It's a challenging read, but well worth it. 

My rating: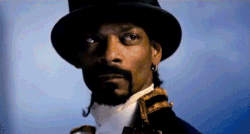 'Midnight's Children' by Salman Rushdie was originally published in Great Britain by Jonathan Cape Ltd. in 1981 and by Vintage in 1995. 463 pages. 

Support Books on GIF! If you like these reviews, please spread the word! Tell your your friends, your book club or even the person sitting next to you at the coffee shop, and help BoG grow. Here's the subscription link: tinyletter.com/BooksonGIF
Here's an archive of reviews. Books on GIF is also on Facebook, Twitter and Instagram.
Got a book you want me to review? Got an idea to help me promote BoG? Shoot me a note at booksongif@gmail.com. 
Thanks for reading!*
MPV
* Donna is away this weekend, so I apologize for any typos, bad grammar and lack of clarity.