'McGlue' by Ottessa Moshfegh + 'Magritte's Missing Murals' by Joseph D. Reich
Review #118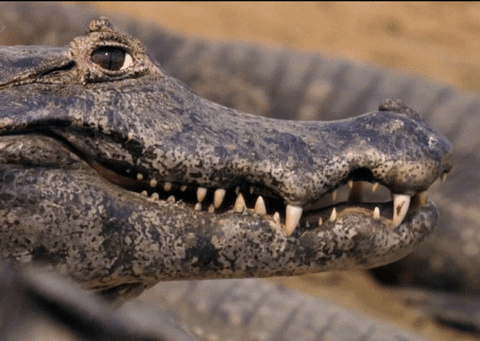 I hate to say it, friends, but I couldn't get into either 'McGlue' by Ottessa Moshfegh or 'Magritte's Missing Murals' by Joseph D. Reich, even though the first is by one of my favorite authors and the second is from one of my favorite publishing houses. We're at the halfway point of Books on GIF's weekly 'Novella November' series, and it feels like I have to kill my darlings in today's two-pack of reviews, like: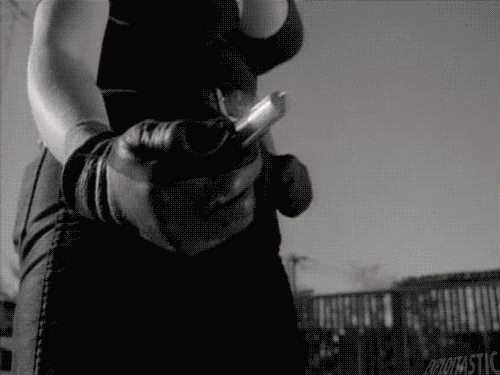 First up is 'McGlue':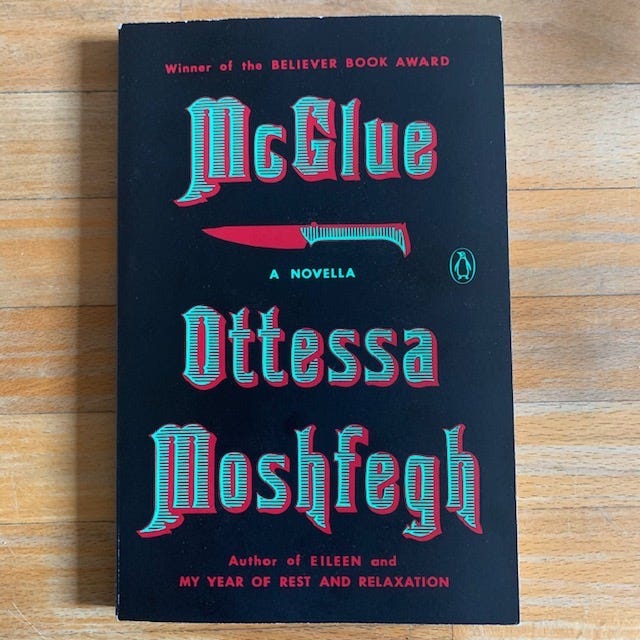 As you may know, I've heaped praise on Moshfegh's novels 'Eileen' and 'My Year of Rest and Relaxation,' and I also liked her collection of short stories 'Homesick For Another World,' but her debut novella, 'McGlue,' bored me. It's about a sailor in the mid-1800s named McGlue who kills his friend for murky reasons while they're in a foreign port, and he is hauled all the way back to Salem, Mass., to stand trial for murder. McGlue is a degenerate, racist and homophobic drunk who also has a massive head injury. Alcoholism and brain trauma cause him to lose memories and hallucinate. While held in the brig during his journey halfway around the world, we see flashbacks to his relationship with the slain friend, Johnson, and piece together some information about the killing. I've already started to forget many of these scenes as they weren't enough to make me care about McGlue and his fate. It's not that I needed to like him in order to connect with his story; Moshfegh in her recent work has come to excel at using unlikeable characters to explore human darkness in interesting ways. But I needed something more than McGlue's constant thirst for liquor and fragments about his past to get me invested. Still, there were some: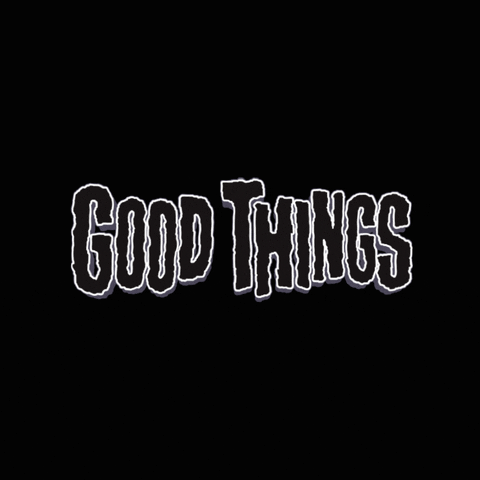 It was interesting to read 'McGlue' last, after having read Moshfegh's newer works beforehand. I could see her trying out some things here done more effectively later. For example, she uses the last page of McGlue to do a hard pivot into the moral of the story, which foreshadows the ending of 'My Year of Rest and Relaxation.' Also, I think this book is supposed to be a love story about repressed homosexuality. Repression of one's identity can lead to self-hatred that's projected onto others and rots you from within. While that's effectively portrayed here, it doesn't inspire me to recommend this book.
How it begins:
Zanzibar

I wake up.

My shirtfront is stiff and bibbed brown. I take it to be dried blood and I'm a dead man. The ocean air persuades me to doubt, to reel my head in double, triple takes towards my feet. My feet are on the ground. It may be that I fell face first in mud. Anyway, I'm still too drunk to care.

"McGlue!"

A wrathful voice calls out from the direction of sunshine, ship sails hoisting, squeaks of wood and knots, tight. I feel my belly buckle. My head. Just last spring I cracked it jumping from a train of cars—this I remember. I get back down on my knees.

Again, "McGlue!"

This McGlue. It sounds familiar.
My rating: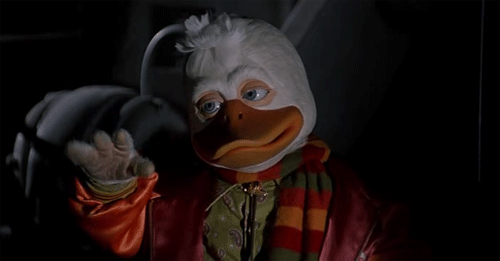 'McGlue' by Ottessa Moshfegh was published by Fence Books in 2014 and by Penguin Books in 2019. 145 pages. $15 at Unnameable Books.
Next up is 'Magritte's Missing Murals':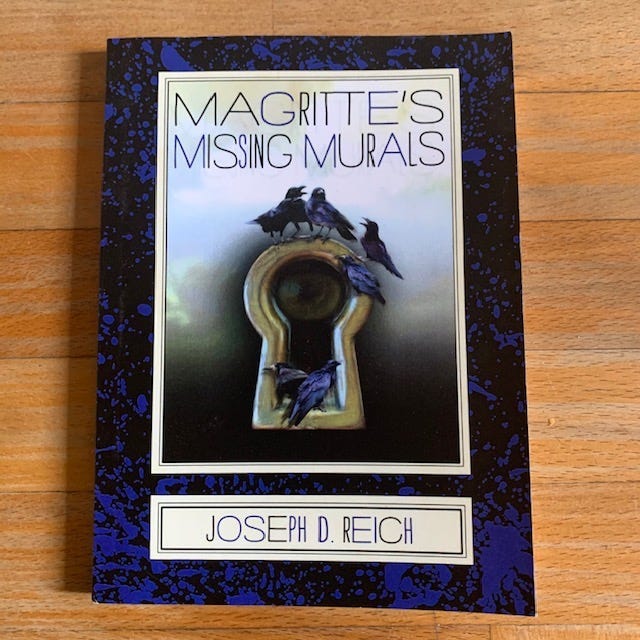 Longtime readers of Books on GIF know that I love Sagging Meniscus Press. It published Seth Rogoff's amazing debut novel, 'First, The Raven: A Preface,' and his intriguing and complex follow-up, 'Thin Rising Vapors.' It also published Fay Webern's wonderful memoir, 'The Button Thief of East 14th Street,' about growing up on Manhattan's Lower East Side. Sagging Meniscus has a real knack for bringing unique stories into print, and you know me: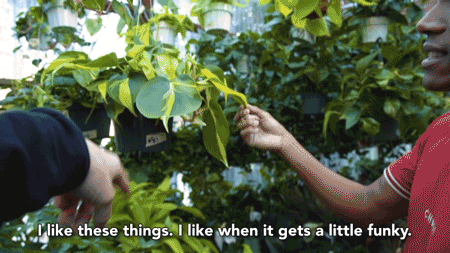 But 'Magritte's Missing Murals' might be a little too funky for me. I guess you could categorize it as a book of poetry, but it's unlike any other collection of poems I've ever read. Normally I'd say that's a good thing, but I'm not sure it is here. I like some of Reich's work, particularly the excerpt below about the lighthouse that projects darkness. We've all met people who are like that. But other examples, like the one below about the old man, felt like poetic Mad Libs; just random words lumped together to elicit some kind of effect. I'm not sure what they are supposed to mean. Maybe they aren't supposed to mean anything. Maybe an emotional response to the words, good or bad, is the point. Maybe this book is a send-up of poetry in itself, a challenge to the idea that language must convey some kind of intent or meaning. If any of that's true, I'd say: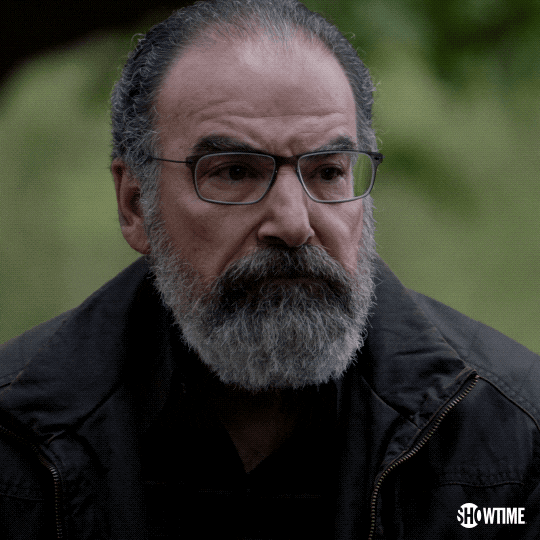 Hardcore poetry fans might get more out of 'Magritte's Missing Murals' than I did. While I like the weird and the provocative, this work just made me shrug.
Three excerpts:
5.

A lighthouse which just projects

darkness in a land of brightness
52.

Some frail old man in his pastel pajamas

climbing up a ladder into the window

lit on fire into an empty spare room

which looks like a perfectly manicured back-

yard with hedges and a beaming bright sun
60.

Bare mountains with tree stumps up

and down them and a procession

of caskets moving downriver
My rating: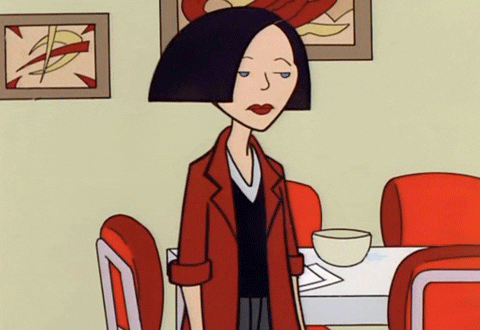 'Magritte's Missing Murals' by Joseph D. Reich was published in 2017 by Sagging Meniscus Press. 92 pages. It was sent to me by the publisher.
---
More things worth your time:
Read this: 'Stuck in a loop: remembering the 20th anniversary of Burn All GIFs' by Margarita Noriega at Glitch.com recalls an attempt to ban the GIF image format from the internet. That would have been bad for me.

Read this, too: 'What Does It Take to Have a Custom Library' in WSJ. Magazine offers several interviews with very wealthy people about their custom libraries. I'm a sucker for this kind of content as I love reading about people's most prized books and how they amass their collections. One of these days I'll have to do an Instagram story about my custom library, such as it is. I think there's some cool stuff in there you guys might enjoy. (Subscription might be required.)

Do this: Author Carmen Maria Machado discusses her new memoir, 'In the Dream House,' with Desiree Akhavan at St. Francis College in Brooklyn on Fri., Nov. 15, from 7-9 p.m. Machado's book is an 'account of a relationship gone bad, and a bold dissection of the mechanisms and cultural representations of psychological abuse.' Tickets are available through Books Are Magic. (Scroll down.)
---

Next week you'll get reviews of 'Mary Ventura and the Ninth Kingdom' by Sylvia Plath and 'Down the Rabbit Hole' by Juan Pablo Villalobos. Also in the queue are 'Nothing But The Night' by John Williams, 'The Last Mosaic' by Elizabeth Cooperman and Thomas Walton, and 'Lost Time: Lectures on Proust in a Soviet Prison Camp' by Józef Czapski, among others.
In case you missed it: Books on GIF #117 featured 'The Dry Heart' by Natalia Ginzburg and 'A Northern Line Minute' by William Leith.
Shoot me an email if there's a bestseller, a classic or a forgotten gem you want reviewed.
If you enjoyed this review, please click the heart button at the top. You can also share this post with a friend:
Follow me on Twitter and Instagram.
Thanks for reading, and thanks especially to Donna for editing this review!
Until next time,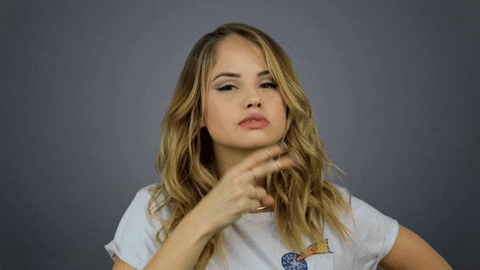 MPV