'Drive Your Plow Over the Bones of the Dead' by Olga Tokarczuk
Review #130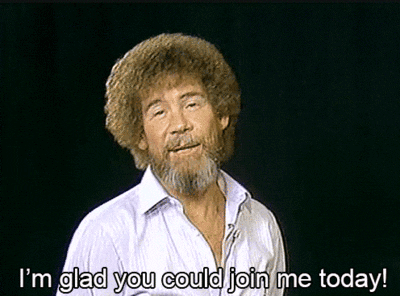 I loved this book. If you are looking for a fresh take on a murder mystery that's dark, funny and surprising, but also an intricately constructed quick read, then I suggest you try this Sunday's selection, 'Drive Your Plow Over the Bones of the Dead' by Olga Tokarczuk: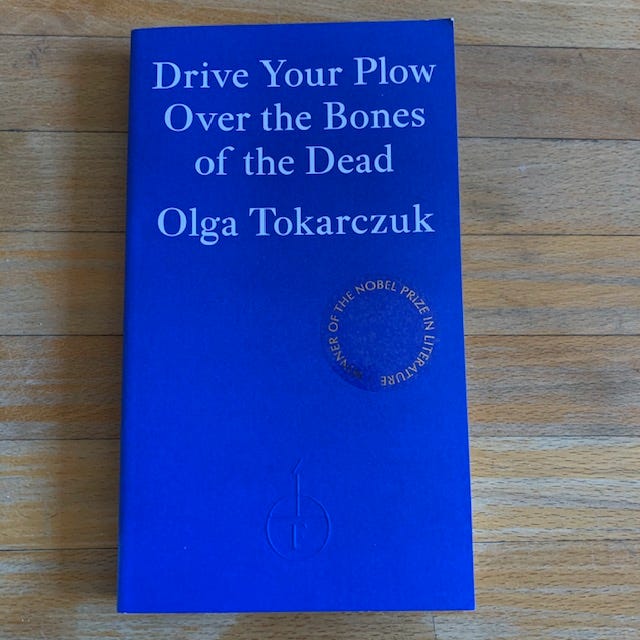 ---
Were you forwarded this email? Subscribe here.
---
I was not familiar with Tokarczuk's work until she was announced as the winner of the 2018 Nobel Prize for Literature. When I saw she had a novel with a title this intense, I knew I had to read it. Donna recently traveled to London for work, and I asked her to pick up a copy of this specific edition because I wanted to read the book in paperback (it's only available in hardcover in the U.S.), plus I love the simple design of the Fitzcarraldo publishing house. When she came home with it, I was like: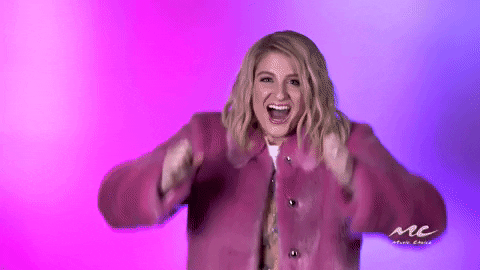 The story follows Janina Duszejko, an older woman who lives alone outside a remote village in Poland near the Czech border. Her days are spent taking long walks through the forest, making astrological calculations and translating into Polish the poetry of William Blake, from whom the book takes its title. She is a vegetarian, a fierce animal lover, and prone to various illnesses and ailments including seeing hallucinations of her dead mother in her basement. The book opens with Janina, who narrates, being rousted from bed in the middle of the night by a neighbor. They go over to another neighbor's house to discover that he has died, apparently having choked on a bone from his dinner of deer that he had poached from the forest. Shortly thereafter, other people in the village, from the police commandant to the local fox furrier, begin to die mysteriously. Janina believes the killings are being done by animals out for vengeance against hunters and poachers. She writes letters to the police explaining her theories, as well as her evidence to support them gathered through her consultations of astrological charts and the stars. I don't want to give much more away about the story, so I'm going to shut up about it now, like: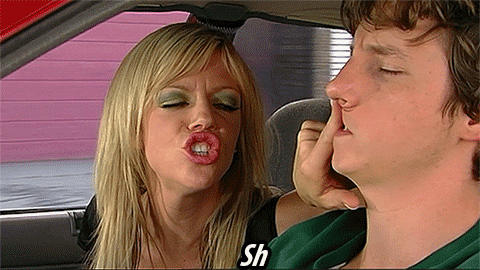 But I do want to tell you about some things I really liked about this novel. First, I loved the plot's twists and turns, and how Tokarczuk hid the clues to the case in plain sight despite having Janina be an unreliable narrator. I loved how she included tidbits of Europe's strange history of human courts trying animals for crimes. I thought she had made that up, but it's apparently true. And I also loved this passage about older men, who she describes as succumbing to an ailment
…the symptoms of which are a gradual decline in social intelligence and capacity for interpersonal communication, as well as a reduced ability to formulate thoughts. The Person beset by this Ailment becomes taciturn and appears to be lost in contemplation. He develops an interest in various Tools and machinery, and he's drawn to the Second World War and the biographies of famous people, mainly politicians and villains. His capacity to read novels almost entirely vanishes….
I know of entire book newsletters devoted to men like this. I might even be related to one!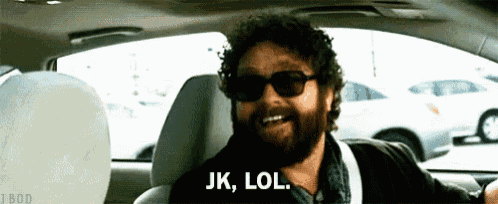 'Drive Your Plow Over the Bones of the Dead' is a smart and well-told novel that I think would be a good distraction from these stressful and depressing times. You should all read it.
How it begins:
Once meek, and in a perilous path,
The just man kept his course along
The vale of death.

I am already at an age and additionally in a state where I must always wash my feet thoroughly before bed, in the event of having to be removed by an ambulance in the Night.

Had I examined the Ephemerides that evening to see what was happening in the sky, I wouldn't have gone to bed at all. Meanwhile I had fallen very fast asleep; I had helped myself with an infusion of hops, and I also took two valerian pills. So when I was woken in the middle of the Night by hammering on the door—violent, immoderate and thus ill-omened—I was unable to come round. I sprang up and stood by the bed, unsteadily, because my sleepy, shaky body couldn't make the leap from the innocence of sleep into wakefulness. I felt weak and began to reel, as if about to lose consciousness. Unfortunately this has been happening to me lately, and has to do with my Ailments. I had to sit down and tell myself several times: I'm at home, it's Night, someone's banging on the door; only then did I manage to control my nerves. As I searched for my slippers in the dark, I could hear that whoever had been banging was now walking around the house, muttering. Downstairs, in the cubbyhole for the electrical meters, I kept the pepper spray Dizzy gave me because of the poachers, and that was what now came to mind. In the darkness I managed to seek out the familiar, cold aerosol shape, and thus armed, I switched on the outside light, then looked at the porch through a small side window. There was a crunch of snow, and into my field of vision came my neighbour, whom I call Oddball. He was wrapping himself in the tails of the old sheepskin coat I'd sometimes seen him wearing as he worked outside the house. Below the coat I could see his striped pyjamas and heavy hiking boots.

'Open up,' he said.
My rating: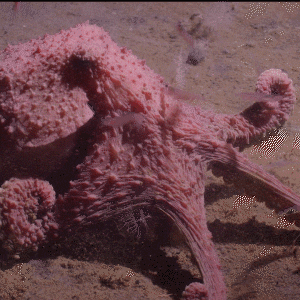 'Drive Your Plow Over the Bones of the Dead' ('Prowadź swój pług przez kości umarłych') by Olga Tokarczuk was originally published by Wydawnictwo Literackie, Kracków in 2009. Translated from the Polish by Antonia Lloyd-Jones and published by Fitzcarraldo Editions in 2018 and 2019. 266 pages. £8.99 from Waterstones.
---
More things worth your time:
Read this: 'I Can't Read a Book Right Now—And I'm Not Alone' by Sophie Vershbow in Vogue talks about how difficult it has been for many of us in recent weeks to focus on reading. I have struggled with this, too. I thought that I'd get a ton of reading done during these homebound weeks, but my mind has trouble staying focused, and I find that after a few pages, I've lost my train of thought or I'm looking at my phone again.

Read this, too: Some good news: Powell's City of Books in Portland, Ore., which is one of my favorite bookstores, was able to hire back 100 workers who had been laid off due to the coronavirus to fulfill a surge in online book orders. I hope other independent booksellers are seeing similar interest. I wish I could order some books right now, but we are watching every dime in these financially precarious times. John Warner, writing in the Chicago Tribune, has a nice piece about why independent bookstores are so important to our communities.
---

Next week you'll get either a review of 'Celestial Bodies' by Jokha Alharthi or 'Good Talk' by Mira Jacob. Also in the queue are 'A Fine Balance' by Rohinton Mistry, 'The Decameron' by Giovanni Boccaccio and 'S.P.Q.R.' by Mary Beard, among others.
In case you missed it: Books on GIF #129 featured 'Killers of the Flower Moon: The Osage Murders and the Birth of the FBI' by David Grann. I also published recently a special edition containing '9 Novels to Help You Endure the Coronavirus Crisis.'
Shoot me an email if there's a bestseller, a classic or a forgotten gem you want reviewed.
Please click the heart button above if you enjoyed this newsletter. You can also share it with a friend:
Follow me on Twitter and Instagram.
Thanks for reading, and thanks especially to Donna for editing this newsletter!
Until next time,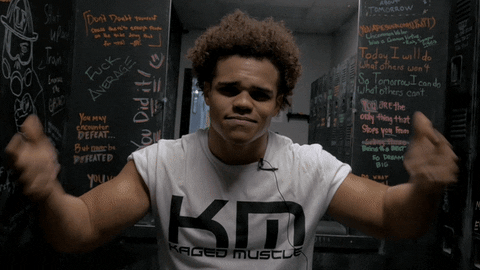 MPV