'Celestial Bodies' by Jokha Alharthi
Review #132
The first novel by a woman from Oman to be translated into English, and the first Arabic novel to win the Man Booker International Prize, is this Sunday's selection, 'Celestial Bodies' by Jokha Alharthi: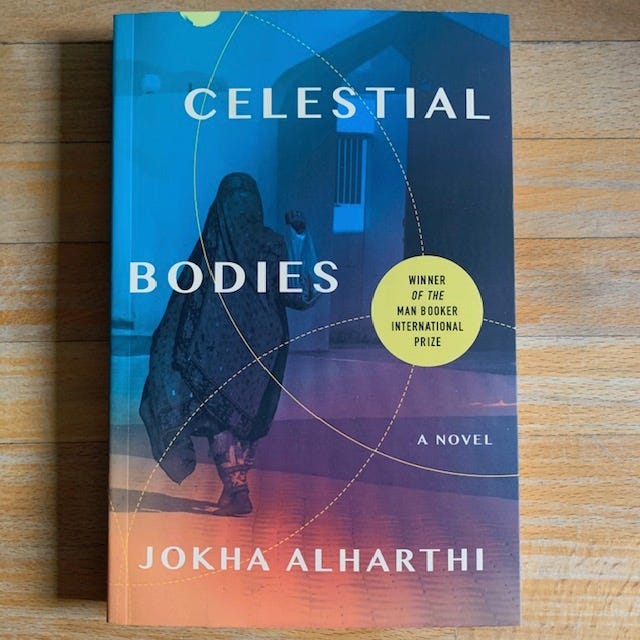 ---
Were you forwarded this email? Subscribe here.
---
I had not heard of this book before I saw it on a display table in the Union Square Barnes & Noble when I had a gift card to burn. When I read its description, I was like:
The story follows three generations of a family living in, and often trying to get out of, a small town in rural Oman. Each chapter focuses on a different character, beginning with a lovelorn Mayya who pines for one man as her family betroths her to another. She marries Abdallah, the son of a wealthy merchant whose family profited from Oman's slave trade—which I learned was abolished only in the 1970s. Abdallah becomes a narrative through-line as chapters focused on him, where he's having some kind of fever dream about family and history during a flight from Muscat to Frankfurt, recur the most. But there are many characters to keep track of—fathers, sons, daughters, mothers, cousins, grandchildren, a random woman in the desert, former slaves, Bedouins, shaykhs—and I found myself returning often to the family tree at the front of the book to try to make sense of who's who. With all these people coming and going in the story, I was dizzy. And midway through, I was like:
Many times I was bored, and thought about putting the book down and moving on to something else. But I felt I had to push through. Eventually it occurred to me that the title of the book was a clue toward grasping its structure. Each character is a celestial body in Oman's solar system, and their paths through time and space are affected by the gravitational pull of the nation's traditions and history. The reader is put into the center of this solar system, and we see the characters as their orbits bring them into view: The closer ones we see several times, others not as much. I thought that was a clever device. I also thought it was interesting how the confusion created for the reader by so many characters perhaps reflected the uncertainty and tumult they were feeling as they reckoned with their cultural traditions amid a modernizing society. Writer Fran Lebowitz apparently said, 'A book is not supposed to be a mirror. It's supposed to be a door.' In that respect, 'Celestial Bodies' enriched me as a point of entry into the history of Oman and the region. But as a form of entertainment, it left me wanting more. The story doesn't dwell on any character long enough for the reader to make an emotional connection, so it's hard to care about them. Also, I think the story could have benefitted from a common conflict or danger for the characters to contend with, but here it's almost metaphysical. I'm not unhappy I read this selection, it just wasn't for me.
How it begins:
Mayya, forever immersed in her Singer sewing machine, seemed lost to the outside world. Then Mayya lost herself to love: a silent passion, but it sent tremors surging through her slight form, night after night, cresting in waves of tears and sighs. These were moments when she truly believed she would not survive the awful force of her longing to see him.

Her body prostrate, ready for the dawn prayers, she made a whispered oath. By the greatness of God—I want nothing, O Lord, just to see him. I solemnly promise you, Lord, I don't even want him to look my way … I just want to see him. That's all I want.

Her mother hadn't given the matter of love any particular thought, since it never would have occurred to her that pale Mayya, so silent and still, would think about anything in this mundane world beyond her threads and the selvages of her fabrics, or that she would hear anything other than the clatter of her sewing machine. Mayya seemed to hardly shift position throughout the day, or even halfway into the night, her form perched quietly on the narrow, straight-backed wood chair in front of the black sewing machine with the image of a butterfly on its side. She barely even lifted her head, unless she needed to look as she groped for her scissors or fished another spool of thread out of the plastic sewing basket which always sat in her small wood utility chest. But Mayya heard everything in the world there was to hear. She noticed the brilliant hues life could have, however motionless her body might be. Her mother was grateful that Mayya's appetite was so meagre (even if, now and then, she felt vestiges of guilt). She hoped fervently, though she would never have put her hope into words, that one of these days someone would come along who respected Mayya's talents as a seamstress as much as he might appreciate her abstemious ways. The someone she envisioned would give Mayya a fine wedding procession after which he would take her home with all due ceremony and regard.
My rating:
'Celestial Bodies' was originally published in Oman in 2010. It was translated from the Arabic by Marilyn Booth and published by Catapult, in agreement with Sandstone Press, in 2019. 243 pages. $16.95 at Barnes & Noble.
---
More things worth your time:
Read this: 'The New York You Once Knew Is Gone. The One You Loved Remains,' by Glynnis MacNicol (whose work I reviewed previously) in Gen is a beautiful and heartbreaking essay about how New York City has 'slipped its axis' because of the coronavirus. The piece asks how much of the magic of this city will survive this great shutdown. One of Donna's and my favorite places, Lucky Strike down in SoHo, has closed for good. What will be left when we can finally safely emerge from our homes? It's almost too sad to contemplate right now. I had a tear in my eye at the end of this piece. If you live here, you should read it.

Read this, too: The New York Times published a piece this week about Ottessa Moshfegh, whose new novel, 'Death in Her Hands,' was supposed to be published this month. The release has been pushed back to an as-yet-undetermined date due to the coronavirus. I enjoyed reading about Moshfegh's writing process and a few weird tidbits about her such as how she knows when she's going to die. But one line stuck with me. After finishing her collection 'Homesick For Another World,' she felt tremendous grief. To overcome it, she forced herself to keep writing. 'I needed to write something to get me onto the other side of an experience,' she said. I think many of us who write can relate to that.
---
Next week you will get reviews of two short books: 'The Last Mosaic' by Elizabeth Cooperman and Thomas Walton, and 'Free Day' by Inès Cagnati. The week after will come a review of 'A Fine Balance' by Rohinton Mistry. Also in the queue are 'The Decameron' by Giovanni Boccaccio, 'S.P.Q.R.' by Mary Beard and 'The Bell Jar' by Sylvia Plath, among others.
In case you missed it: Books on GIF #131 featured 'Good Talk: A Memoir in Conversations' by Mira Jacob.
Shoot me an email if there's a bestseller, a classic or a forgotten gem you want reviewed.
Please click the heart button above if you enjoyed this newsletter. You can also share it with a friend:
Follow me on Twitter and Instagram.
Thanks for reading, and thanks especially to Donna for editing this newsletter!
Until next time,
MPV