'Good Talk: A Memoir in Conversations' by Mira Jacob
Review #131
This graphic memoir is so vital and good that I finished all 349 pages in one sitting. I was enlightened as much as I was challenged by this Sunday's selection, 'Good Talk: A Memoir in Conversations' by Mira Jacob: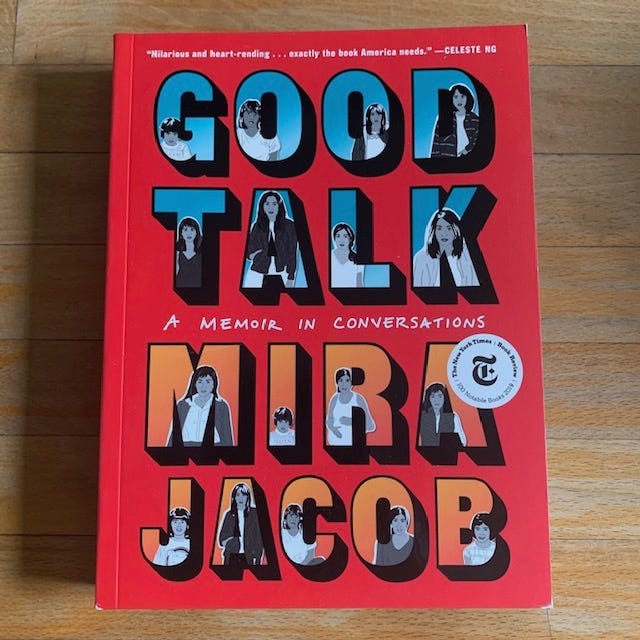 ---
Were you forwarded this email? Subscribe here.
---
Happy Easter and a belated Happy Passover to all of you who celebrate. I hope these holidays provide you some level of comfort in these scary times. I don't remember exactly how this illustrated memoir got onto my radar, but I think it was either through Instagram or by flipping through a copy at the Strand (remember when we could do that?). Maybe both. Either way, I was interested in reading it without actually knowing what it was about, and once I was able to get my hands on a copy of a newly released paperback edition, it went to the top of my reading pile like: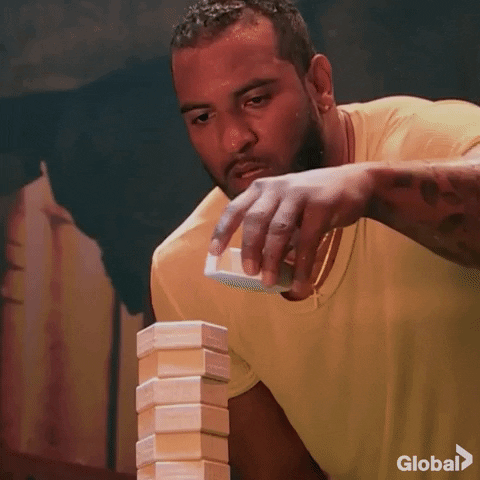 'Good Talk' is visually interesting, relevant to our current political climate, and it packs a punch. The book opens with Jacob's 6-year-old son, Z, obsessed with Michael Jackson. He wants to change his hair and skin color to emulate the King of Pop, which leads to a conversation between mother and son about race and cultural appropriation. Their discussion inspires Jacob to tell her story about how she formulated her answers to her son's questions through her life experiences. We follow her story from growing up in the Southwest as a person of color and the daughter of Indian immigrants, to becoming a writer living in New York City, to the confusion and anguish sparked by the 2016 election. In one childhood scene, she wins an essay contest sponsored by a local organization and is invited to read her work at a luncheon, but is intentionally given the wrong address and nearly misses the event. As an adult, she is treated like the help while at a party thrown by her Jewish in-laws. After the election, her mixed-race son asks Jacob if his father will be afraid of him because he has brown skin. The most interesting part for me, though, was how she grappled with balancing her love for her family and her in-laws with her disagreement with their cultural and political views. Her Indian family, for example, equates beauty and success with having lighter skin, so they figured Jacob's prospects of a good marriage were diminished due to her darker skin. Her in-laws, despite welcoming her into their family with love and open arms, nevertheless support the current president and wave off Jacob's concerns and fears. As someone who also struggles with how to relate to parents and relatives with political beliefs different from my own, I was like: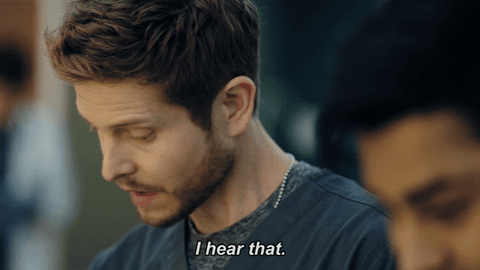 Jacob's illustration's were also very interesting and unlike other graphic literature I've seen. She uses photographs of people or places overlaid by her drawings of herself and other characters. Most of the time, the characters stand side-by-side and speak facing the reader, as if they are not only making us participants in the story, but also challenging our own conceptions and behaviors about race directly. It's brilliant, and as I was reading I was like: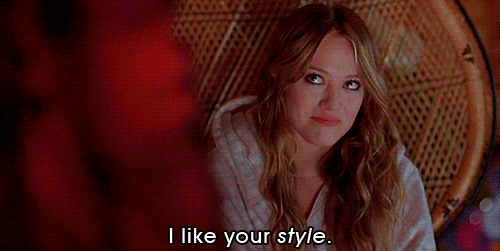 You can see on the book's cover where author Celeste Ng writes that this is 'exactly the book America needs.' I agree. Jacob's exploration of her origins in order to formulate answers to her son's questions is conducted with love, empathy and a genuine desire to understand herself and those she loves, as well as to be understood in turn. It's an approach from which we can all benefit. This book is as inspiring as it is informative, and you should all read it.
How it begins:
Because this book is illustrated, I will describe the opening page to you. It is one panel that contains a photo of 'Off The Wall'-era Michael Jackson in the background, with cut-out illustrations of Jacob and her son in the foreground.
A text box partially covers Jackson's face. It reads:
The trouble began when my 6-year-old son, Z, became obsessed with Michael Jackson.
Dialogue bubbles illustrate an exchange between mother and son. The son begins:
What is "obsessed"?

Like, into.

Really, really into?

Yes.

I'm obsessed.
My rating: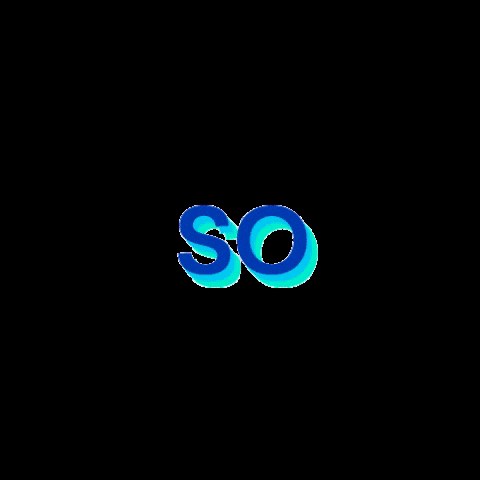 'Good Talk: A Memoir in Conversations' by Mira Jacob was published by One World in 2019 and 2020. 349 pages. $20.
---
More things worth your time:
---

Next week you'll get a review of 'Celestial Bodies' by Jokha Alharthi. Also in the queue are 'A Fine Balance' by Rohinton Mistry, 'The Decameron' by Giovanni Boccaccio and 'S.P.Q.R.' by Mary Beard, among others.
In case you missed it: Books on GIF #130 featured 'Drive Your Plow Over the Bones of the Dead' by Olga Tokarczuk.
Shoot me an email if there's a bestseller, a classic or a forgotten gem you want reviewed.
Please click the heart button above if you enjoyed this newsletter. You can also share it with a friend:
Follow me on Twitter and Instagram.
Thanks for reading, and thanks especially to Donna for editing this newsletter!
Until next time,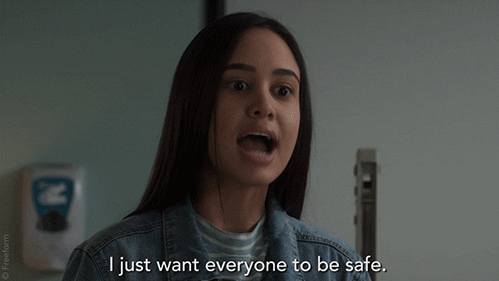 MPV