'Mary Ventura and the Ninth Kingdom' by Sylvia Plath + 'Down the Rabbit Hole' by Juan Pablo Villalobos
Review #119
There's an absolute gem of a book among this week's pair of novellas that I'm super excited to tell you about. There's also a previously unpublished work by a famous author that was just OK. It's serendipitous, though, that these two books — 'Mary Ventura and the Ninth Kingdom' by Sylvia Plath and 'Down the Rabbit Hole' by Juan Pablo Villalobos — should be reviewed together because they both offer different takes on the destinies of young people. Let's start with 'Mary Ventura':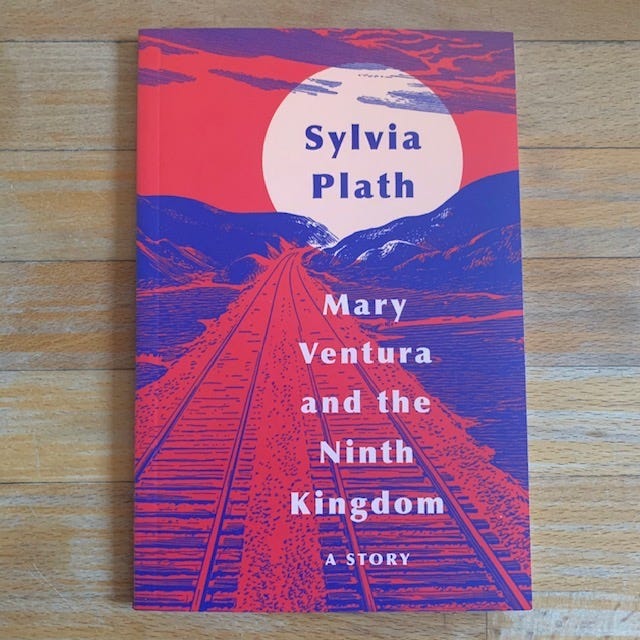 I bought this book because the protagonist's name is similar to my late grandmother, Marion Ventura. Though the two couldn't have been more different — Mary is a young woman embarking on a train journey into the unknown; Marion worked for decades behind a sewing machine in a factory — their contrast highlights the point of the story. It's a parable about how women's lives, like train tracks, are often predetermined and fixed by society and, once the train starts moving, there is little chance for deviation or escape. The book opens with Mary's parents rushing her to board a train. I thought she might be headed to school, but it turns out she's not really sure where she's going. Mid-journey, she's befriended by an older woman who tells her she's bound for a mysterious place called the Ninth Kingdom. The train, it turns out, is like Hotel California insofar as you're not allowed to leave and there's no going back. When Mary learns this, she's like:
She wants off. The woman tells her that the train is guarded by men who will prevent her escape, but if she makes a run for it at the next station there's a chance she can get away. She'll be forced to choose a path. One way is into the train station where there's warmth and music, but it's a trap. The other is up the scary stairs that are dark and populated by lizards, snakes and unpleasant creatures. To find freedom, she will have to face the lizards, who are lurking like:
It's a nice story. It's comforting to believe that you can escape society's demands by just running away from them. But I kept thinking about my grandmother. Could she have escaped the factory just by running away? What about the two children she was raising alone? What about the rest of her family who relied on her? How far could she have gotten without an education at Smith College, which is where Plath was when she wrote this? Mary Ventura's story, which Madamoiselle magazine declined to publish when Plath submitted it in 1952, feels like an oversimplification of many women's lives and their means to change their circumstances. Still, if you're a Plath fan, you might enjoy reading this example of her early work.
How it begins:
Red neon lights blinked automatically, and a voice grated from the loudspeaker. "Train leaving, on track three … train leaving for … train leaving …"

"I know that must be your train," Mary Ventura's mother said. "I'm sure it is, dear. Hurry. Do hurry now. Have you your ticket?"

"Yes, mother, I do. But do I have to go right away? So soon?"

"You know how trains are," Mary's father said. He looked anonymous in his gray felt hat, as if he were traveling incognito. "You know how trains are. They don't wait."

"Yes, father, I know."

The long black hand of the clock on the wall clipped off another minute. Everywhere there were people running to catch trains. Above them, the vault of the railroad station lifted like the dome of a huge cathedral.
My rating:
'Mary Ventura and the Ninth Kingdom' by Syliva Plath was published by Harper Perennial in 2019. 40 pages. $8.95 at Strand Book Store.
Next up is 'Down the Rabbit Hole':
Donna bought me this book several years ago as a souvenir when she was in Oaxaca for a film festival. I put it on my shelf, where it got buried under other books, and I forgot about it until I rediscovered it while cleaning. (Yes, this has happened before.) What a gem! It's narrated by a boy named Tochtli, who's the son of a Mexican drug kingpin named Yolcaut. Tochtli spends his days sequestered in an opulent compound, reminiscent of the opening scene in 'The Godfather: Part II,' while being homeschooled, learning big words from the dictionary, playing his PlayStation, collecting hats, tormenting the various exotic animals in his father's home zoo, pining for a Liberian pygmie hippopotamus and worrying about being macho. His idyll is broken occasionally by brutal drug-related violence and murder, both on TV and when his father forces him to watch members of his gang torture and kill rivals. I was like:
Tochtli has no friends his own age and often lives in his own imagination, creating adventures for himself based on whatever hat he's wearing from his collection. He wears his detective hat, for example, when he investigates things around the compound, like his father's gun room. He wears a samurai hat when he dreams of being an ancient Japanese warrior. And he becomes like a great hunter with the safari hats he gets when he and his father take a trip to Liberia in search of tiny hippos:
I really liked this book. It is a powerful critique of Mexico's drug problem as well as an exploration of how boys are desensitized to violence and set on a path early on that leads to toxic masculinity. I also like how the author included a glossary with fascinating tidbits of information. For example, he gave his characters names in Nahuatl, which is Mexico's main indigenous language. ('Tochtli' is Nahuatl for 'rabbit'; 'Yolcaut' means 'rattlesnake.') The glossary also mentions that the recipe for pozole, a traditional Mexican stew, once contained the flesh of human sacrifices until that was banned by Spanish conquistadors. Grisly, but interesting! But most of all, the writing of 'Down the Rabbit Hole' is excellent. I was riveted by this story, and flew through it in one Saturday morning. I fully recommend it.
How it begins:
Some people say I'm precocious. They say it mainly because they think I know difficult words for a little boy. Some of the difficult words I know are: sordid, disastrous, immaculate, pathetic, and devastating. There aren't really that many people who say I'm precocious. The problem is I don't know that many people. I know maybe thirteen or fourteen people, and four of them say I'm precocious. They say I look older. Or the other way around: that I'm too little to know words like that. Or back-to-front and the other way around, sometimes people think I'm a dwarf. But I don't think I'm precocious. What happens is I have a trick, like magicians who pull rabbits out of hats, except I pull words out of the dictionary. Every night before I go to sleep I read the dictionary. My memory, which is really good, practically devastating, does the rest. Yolcaut doesn't think I'm precocious either. He says I'm a genius, he tells me:

"Tochtli, you're a genius, you little bastard."

And he strokes my head with his fingers covered in gold-and-diamond rings.
My rating:
'Down the Rabbit Hole' (Fiesta en la madriguera) by Juan Pablo Villalobos was originally published in the Spanish by Anagrama, S.A., in 2010. The English translation by Rosalind Harvey was originally published by And Other Stories, Great Britain in 2011. It was published in the United States by Farrar, Straus and Giroux in 2012. 75 pages, including glossary. It was a gift.
---
More things worth your time:
Do this: Zadie Smith will be interviewed by Jennifer Egan at the 92nd Street Y on Thurs., Dec. 5, at 7 p.m. I've reviewed Smith's 'White Teeth,' which I loved, and 'Swing Time,' which I did not. She recently published a collection of short stories called 'Grand Union.' Tickets start at $28, and last I checked there were still a few seats available in the nosebleeds.

Read this: Some of you may skip an author's acknowledgements, but I always read them. I didn't think this was a thing until I read Lily Dunn's Book Riot article called 'Why I Always Read the Acknowledgements.' She hits it on the head here: 'Who they choose to acknowledge and how they write about them reveals both the author's personality and their values.' That's exactly why I think they are so interesting.

Learn this: I bet you didn't know this. I didn't.
---
Next week you'll get reviews of 'Nothing But the Night' by John Williams and 'Lost Time: Lectures on Proust in a Soviet Prison Camp' by Józef Czapski. Also in the queue are 'The Last Mosaic' by Elizabeth Cooperman and Thomas Walton, 'Make Some Space' by Emma Warren and 'Sexographies' by Gabriela Wiener, among others.
In case you missed it: Books on GIF #118 featured 'McGlue' by Ottessa Moshfegh and 'Magritte's Missing Murals' by Joseph D. Reich.
Shoot me an email if there's a bestseller, a classic or a forgotten gem you want reviewed.
If you enjoyed this review, please click the heart button at the top. You can also share this post with a friend:
Follow me on Twitter and Instagram.
Thanks for reading, and thanks especially to Donna for editing this review!
Until next time,
MPV