'In the Distance' by Hernán Díaz
Review #115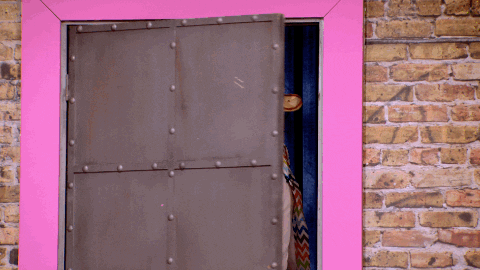 This is one of the best books I've read this year, and I'm so excited to tell you all about it. It's part immigrant story, part Western and part parable about 'fake news.' This Sunday's selection is 'In the Distance' by Hernán Díaz: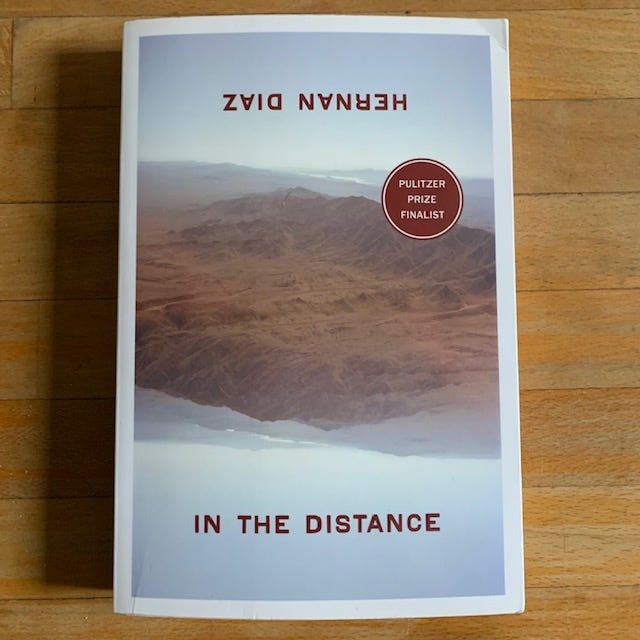 It was recommended to me by David, a dear friend who has never led me astray with a book suggestion. Over the years, he has loaned me 'Psychotic Reactions and Carburetor Dung' by Lester Bangs and 'A Fan's Notes' by Frederick Exley, both of which I enjoyed and he's never getting back. (A quick tangent: This piece in Slate alleges 'Frederick Exley's A Fan's Notes is one of those books that gets pushed on you by crazy people.' That's wrong, but: lol!) Anyway, when David told me I should read 'In the Distance,' I picked it up at the Strand's indie press table (where I also found Katya Apekina's absolutely fantastic 'The Deeper the Water the Uglier the Fish'). David didn't tell me anything about the book, and I hadn't done any research prior to reading it. I was pleasantly surprised and completely enrapt by the story of Håkan, a Swedish immigrant who comes to America as a young man during the California Gold Rush. He and his brother, Linus, were sent by their parents to seek a better life in New York, but Håkan gets separated from Linus during a stopover in England, and mistakenly ends up on a boat to San Francisco. Once on the West Coast, Håkan vows to make it across the continent by whatever means necessary to reunite with his brother. Along the way, he encounters an Irish family of gold prospectors, a mysterious gang run by a woman with no teeth and foul breath, an amateur scientist searching salt flats for evidence of the origins of mankind, Native Americans who have been preyed upon by settlers, and various other people of good and ill repute. But most of the time he is all alone in the wilderness, like: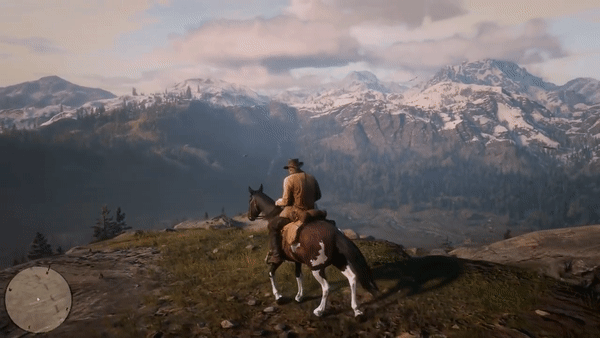 But Håkan is never truly alone during his long stretches in the wild. Death is his constant companion. He always seems one step away from calamity caused by bounty hunters who are after him, or poisonous snakes, or illness, or broken limbs, or exposure to the sun and the elements. At one point, Håkan, who has grown tall, strong and imposing, hooks up with a wagon train and is offered a job as a bodyguard for its leader. The group is attacked, and Håkan defends them by killing several of the bandits by shooting them and by bashing them with blunt objects. Although his acts are heroic, the story about them gains mythic proportions as it's retold, and Håkan, the gentle and quiet Swede, becomes The Hawk, a wild and brutal killer. The tall tale spreads through seemingly every town, city and group of settlers across the West, and whenever Håkan encounters a stranger, they're like: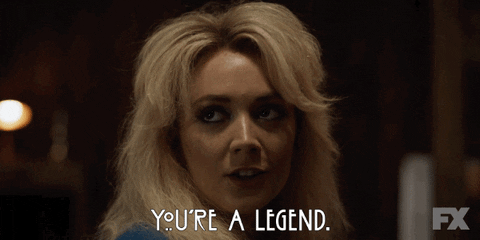 Even though this book is set more than a century ago, I couldn't help but think of Twitter and the internet, and how easily misinformation and fabrications are spread. Håkan tries to defend himself with the facts, but his imposing stature and limited English skills work against him. Plus, it's just easier for people to believe the unbelievable. Think of all the fact-challenged stuff people believe now. Perhaps Jesus was wrong when he said blessed are those who believe without seeing. Perhaps instead it's a law of the universe that:
Díaz's writing is superb, and I flew through this Pulitzer Prize finalist in less than a weekend. I love how when Håkan struggles to understand the English-speaking people around him, Díaz doesn't bail out the reader with all-knowing narration. For example, when the toothless woman shoots a man dead, we share Håkan's confusion and fear about why it happened and whether he's next. I also love how 'In the Distance' reminds me of the beauty and majesty of the West. Donna and I went to California earlier this year, and I haven't stopped thinking of its beauty. Here's a picture of the high desert near Joshua Tree: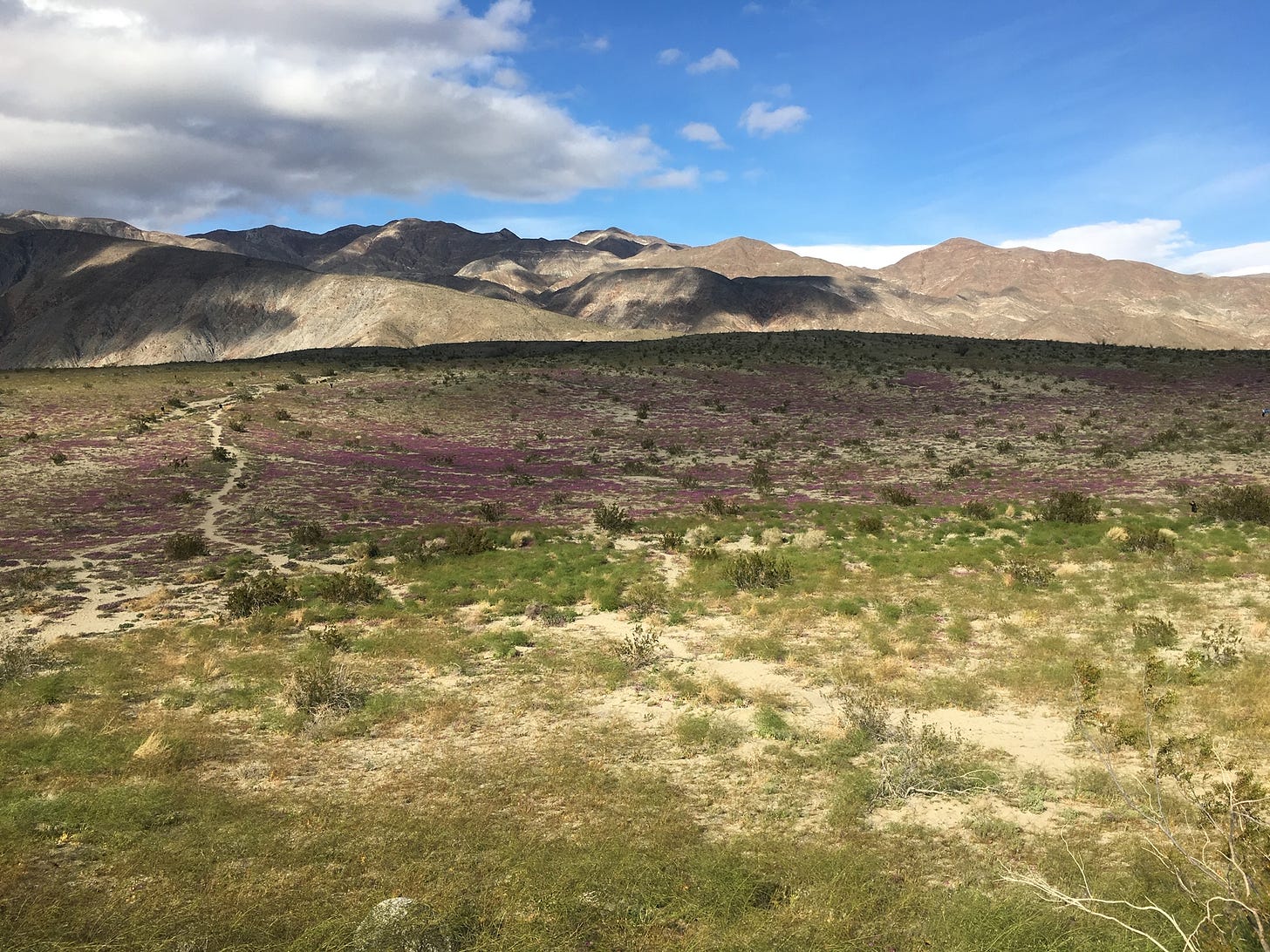 Thank you, David, for another great recommendation. You should all take his advice and read this book.
How it begins:
The hole, a broken star on the ice, was the only interruption on the white plain merging into the white sky. No wind, no life, no sound.

A pair of hands came out of the water and groped for the edges of the angular hole. It took the searching fingers some time to climb up the thick inner walls of the opening, which resembles the cliffs of a miniature cañon, and find their way to the surface. Having reached over the edge, they hooked into the snow and pulled. A head emerged. The swimmer opened his eyes and looked ahead at the even, horizonless expanse. His long white hair and beard were threaded with straw-tinted strands. Nothing in him revealed agitation. If he was out of breath, the vapor of his exhalations was invisible in the uncolored background. He rested his elbows and chest on the shallow snow and turned around.

About a dozen chafed, bearded men in furs and oilskins looked at him from the deck of a schooner caught in the ice a few hundred feet away. One of them yelled something that reached him as an indistinct murmur. Laughs. The swimmer blew off a drop hanging from the tip of his nose. Against the rich, detailed reality of that exhalation (and the snow crunching under his elbows and the water lapping at the edge of the hole), the faint sounds from the boat seemed to be leaking from a dream. Ignoring the muffled cries from the crew and still holding on to the edge, he turned from the ship and faced, once again, the white void. His hands were the only living things he could see.

He pulled himself out of the hole, picked up the hatchet he had used to break the ice, and paused, naked, squinting at the bright, sunless sky. He looked like an old, strong Christ.
My rating:
'In the Distance' by Hernán Díaz was published by Coffee House Press in 2017. 256 pages. $15.25 at Strand Book Store.
---
More things worth your time:
Read this: Here's an important Twitter thread from Emily Wilson, who has translated 'The Odyssey' into English, about women translators and 'English-speakers' blindness to, and lack of interest in, anything that isn't in English.'

Do this: Bronx bookstore The Lit. Bar is hosting a book launch event with Tomi Adeyemi for her new book, 'Children of Virtue and Vengeance.' Adeyemi is the author of the best-selling novel 'Children of Blood and Bone,' which is being adapted into a movie. Tickets for the event at the Lovinger Theatre at Lehman College in The Bronx on Dec. 3 at 7:30 p.m. can be found here.

Read this, too: Literary Hub posted this interview with author Olga Tokarczuk from earlier this year. She was just awarded the Nobel Prize for Fiction, and I am eager to read her work. The title of her latest book 'Drive Your Plow Over the Bones of the Dead' makes me want to read it without knowing what it's about. Lit Hub has a great newsletter, and you can subscribe to it by going here and scrolling down the page.
---

In two weeks you'll get a review of 'Rebecca' by Daphne du Maurier. Books on GIF will then publish weekly for a special series called 'Novella November.' After that, biweekly publication will resume drawing from a queue that includes 'The Great Believers' by Rebecca Makkai, 'Sexographies' by Gabriela Wiener and 'Killers of the Flower Moon' by David Grann.
In case you missed it: Books on GIF #114 featured 'Kudos' by Rachel Cusk.
Shoot me an email if there's a bestseller, a classic or a forgotten gem you want reviewed.
Follow me on Twitter and Instagram.
Thanks for reading, and thanks especially to Donna for editing this review!
Until next time,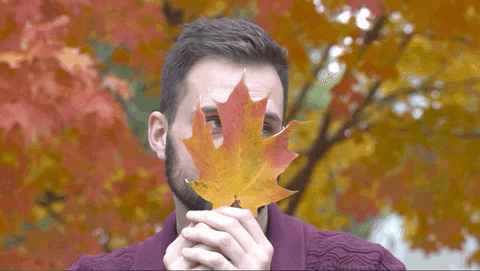 MPV