Books on GIF #103 — 'Postcards From the Edge' by Carrie Fisher
Welcome to the latest edition of Books on GIF, the animated alternative to boring book reviews. This Sunday's selection is 'Postcards From the Edge' by Carrie Fisher.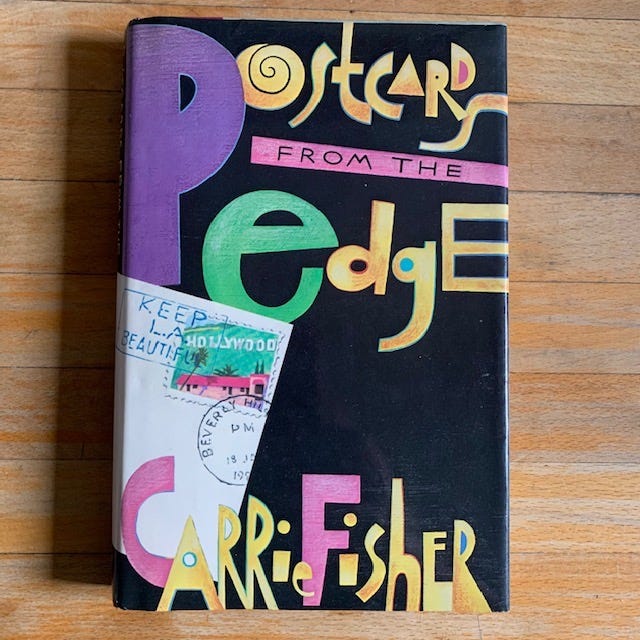 I have no idea why I picked this book up at the Strand a few months back. I guess it was a combination of a few factors, including finishing Glynnis MacNicol's 'No One Tells You This,' which features Carrie Fisher prominently; seeing someone on Instagram reading it; and liking the vintage cover design. I fully expected to read the source material for the movie version, starring Meryl Streep and Shirley MacLaine, about a young actress struggling with drug addiction in the shadow of a more famous mother. But I was surprised to find:
Fisher's story is about a young actress, Suzanne Vale, who struggles with addiction and tries to get her life together, but her mother is very much in the background. Suzanne's story is told through moments, starting in a drug rehab clinic and weaving through film shoots, vapid dates, terrifying Hollywood parties and bed-confining depression before achieving — happiness? Maybe: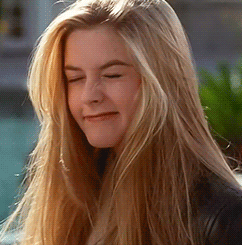 I liked Fisher's novel, but I hated reading it. It is full of dull, self-possessed characters who I could not stand, including Suzanne. Their conversations are about nothing, and everyone is self-centered and annoyingly neurotic, like a Woody Allen movie in book form. The dust jacket blurbs tell me that the book is hilarious, but I thought it was depressing. I fell asleep a lot, and every time I picked up the book to continue, I was like, 'ugh, these people again.' But I think this is Fisher's point: to show that Hollywood is populated with empty people, looking to fill themselves with something that apes, or distracts from, real life, whether it's drugs, or sex, or fitness, or parts in movies, or therapy, or parties, or fame. It's almost as if Fisher is saying: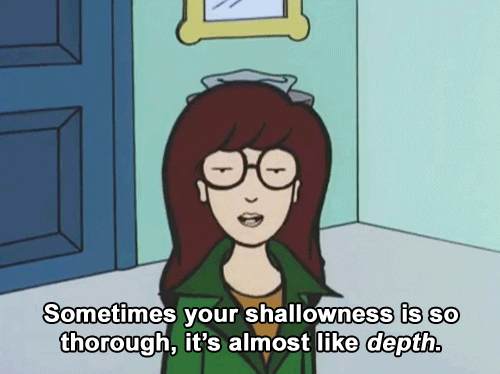 In the best line of the book, Suzanne's therapist tells her: 'I want you to lead a life instead of following one around.' We never get a clear answer to how Suzanne, or anyone, is supposed to do that. And I think that's the point, too. No one really knows. Suzanne starts dating an author, and settles into something that resembles a 'normal life.' After a year, they're still together, and she's working on not self-sabotaging and worrying that maybe someone better is just around the corner. She's learning to allow herself to love someone, and to be loved in return. But is she happy? Are any of us?
I was curious to know why the film adaptation of 'Postcards From the Edge' deviates so much from the book, so I did a quick search of the internet this morning. I couldn't find anything definitive, but I did come across this line in a review of the film from The Washington Post: 'Fisher's novel isn't strong on story; it's more a collection of comic fragments — oddball dispatches from the movie wars — than a real novel.' That someone could say that this isn't a 'real novel' shocked me. What does that even mean, a 'real novel'? I can't help but wonder that if a man had written this book instead of a movie star best known for a space opera it would have been described as 'provocative' and 'ground-breaking.' That's because it is both. Even though I had a hard time getting through the book, Fisher writes beautifully and effectively, and her depiction of what it's like to be high on cocaine is frightening, frustrating and fascinating, and rivals Norman Mailer's treatment of being drunk on whiskey in 'The Armies of the Night.' She pushes boundaries on narrative and story structure in 'Postcards From the Edge' that by today's standards seem tame, but perhaps were hard for critics in the late '80s and early '90s to get their heads around. Maybe Mike Nichols was too conventional a director to handle the original narrative; perhaps in an alternative universe a better choice would have been:
How it begins:
BROTHER THOMAS,

You know how I always seem to be struggling, even when the situation doesn't call for it? Well, I finally found a place where my struggling fits right in: the sunny Middle East. Brooding and moping doesn't seem overdramatic in Israel or Egypt or Turkey. Today I stood in a recently bombed-out train station. I looked at the charred, twisted metal and thought, "Finally my outsides match my insides." Maybe I should take a tour of the world's trouble spots and really relax. See you soon.

Love,

Sister Suzanne

DEAR LUCY,

Okay, here's what I think now. Ready? I have to establish an overall plan for my overboard life. When I cross the finish line of my twenties this fall and that thirty flag goes down, I'd like to be closing in on having some idea of whatever it is that my life is about.

Here's what I've come up with so far: a) I'll get back into therapy, maybe with a woman therapist this time; b) I'll stop coloring my hair and dye it back to its normal color—I'll artificially go natural; c) I'll only date people I really like, so I can feel like there's some point to it; d) I'll fix the eating thing; e) I'm going to slip my hand out of the comforting clasp of chemicals—No More Drugs. Also, get up early every day, read more, keep a journal, talk on the phone less, do less shopping and, eventually, have a child with someone. Obviously, the plan is in a really rough early phase, so I'll keep you posted as this gets honed down.

Honey, I'm honed.

Your elfin buddy,

S.
My rating:
'Postcards From the Edge' by Carrie Fisher was published by Simon & Schuster in 1987. 221 pages. $9 at Strand Book Store.
Today is your last chance to order a limited-edition Books on GIF 'Hard G' T-shirt designed by the awesome This is a Dispatch. Head over to booksongif.bigcartel.com and order one before sales close at 10 p.m. Eastern TONIGHT. Don't miss out!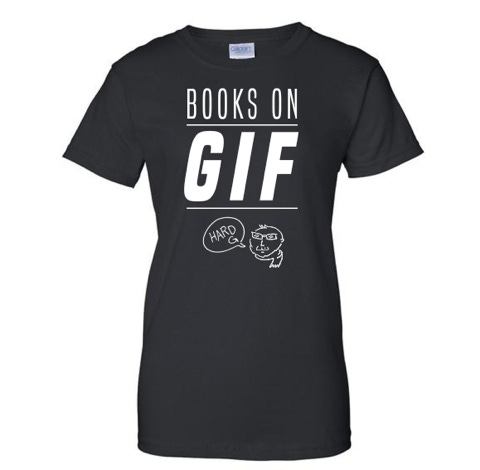 In case you missed it: Books on GIF #102 featured 'Thin Rising Vapors' by Seth Rogoff.
What's next: In two weeks you'll get a review of 'Our Lady of the Nile' by Scholastique Mukasonga. Also in the queue are 'The Deeper the Water the Uglier the Fish' by Katya Apekina, 'The Friend' by Sigrid Nunez and 'The Seas' by Samantha Hunt, among others. 
Shoot me an email if there's a bestseller, a classic or a forgotten gem you want reviewed.
Follow me on Twitter and Instagram.
Thanks for reading, and thanks especially to Donna for editing this review!
Until next time,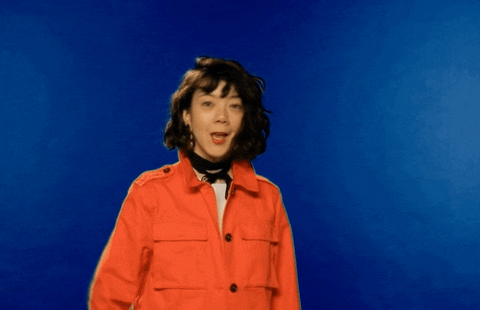 MPV