'My Sister, The Serial Killer' by Oyinkan Braithwaite
Review #127
I had been looking forward to reading this Oyinkan Braithwaite novel because it seemed like an exciting tale of suspense and murder. Though there are intense moments, and even humor, I didn't love this Sunday's selection, 'My Sister, The Serial Killer':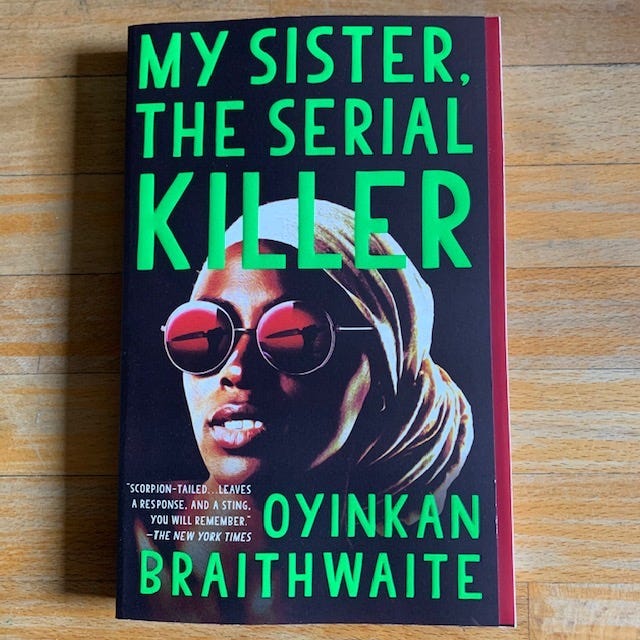 ---
Were you forwarded this email? You can subscribe here.
---
Braithwaite's novel is set in Lagos, Nigeria, and centers on sisters Ayoola and Korede. Korede, who narrates, is a nurse at the local hospital. Ayoola is a beautiful Snapchat-using fashion influencer who has a habit of stabbing boyfriends. The book opens with the sisters dumping the body of her latest victim, Femi, into a river. Korede helps her sister clean up the blood, hide all traces of the crime and coaches her how to behave to not arouse suspicion. She also encourages her to quit murdering men, but with about as much success as a parent trying to get a finicky child to eat broccoli. Still, Korede is plagued by guilt, and confesses her role in covering up the killings to Muhtar, a comatose patient at the hospital. With this basic setup, I was excited for the possibilities of where the story could go, like:
Without giving too much away, because there is some real suspense that I don't want to spoil, I feel the book doesn't live up to its promise. Some parts are too obvious. For example, anyone familiar with the concept of 'Chekov's Gun' could guess right away what will happen with Muhtar. Even so, I feel his subplot didn't add much, and it was a missed opportunity not to use his ability to expose the sisters' crimes to ratchet up the suspense. I also wanted to see Korede's sense of guilt explored more deeply, and to have the stakes be higher for her inability to stop her sister's killing spree. In addition, I wanted to know more about Ayoola and her motivation. We get glimpses of a backstory involving an abusive father and the makings of an arranged marriage, but I wanted to get inside her head. Was her violence a coping mechanism for abuse? Or was she in it for the thrill? My guess is that her murders were more of a political statement meant to strike back at patriarchal societies that perpetuate violence against women. When it comes to things like that:
I have often criticized books for running too long. The opposite is true here. As you'll see below, where I quote the entire first chapter, the book feels clipped. 'My Sister, The Serial Killer' had the potential to be great, but it needed to be more fleshed out, particularly at the too-abrupt ending. It's often said it's a good thing to leave people wanting more, but in this case:
How it begins:
Ayoola summons me with these words—Korede, I killed him.

I had hoped I would never hear those words again.
My rating:
'My Sister, The Serial Killer' by Oyinkan Braithwaite was originally published as an ebook titled 'Thicker Than Water' in Nigeria by Qamina, Lagos, in 2017. It was published in the United States by Anchor Books in 2018 and 2019. 223 pages.
---
More things worth your time:
Thanks for the shoutout!
---
In two weeks you'll get a review of 'The Book of X' by Sarah Rose Etter. Also in the queue are 'Killers of the Flower Moon' by David Grann, 'Celestial Bodies' by Jokha Alharthi and 'Drive Your Plow Over the Bones of the Dead' by Olga Tokarczuk, among others.
In case you missed it: Books on GIF #126 featured 'Barracoon: The Story of the Last "Black Cargo"' by Zora Neale Hurston.
Shoot me an email if there's a bestseller, a classic or a forgotten gem you want reviewed.
Please click the heart button above if you enjoyed this newsletter. You can also share it with a friend:
Follow me on Twitter and Instagram.
Thanks for reading, and thanks especially to Donna for editing this newsletter!
Until next time,
MPV