Books on GIF #81 — 'How Should a Person Be?' by Sheila Heti
Hello!
Happy Mother's Day! Welcome to the latest edition of Books on GIF, the animated alternative to boring book reviews. This Sunday's book is 'How Should a Person Be?' by Sheila Heti.
This fantastic novel got so far into my head that for a brief moment I considered not sharing it with you guys at all and keeping it to myself, like:
I had a nearly identical dream in real life to one the protagonist, also named Sheila, has within the pages. In her dream, she gets on planes headed to uncertain destinations. My dream merely replaced the planes with trains. Creepy, right? I've never before shared a dream with a book character. Elsewhere in the text were passages that felt lifted straight from my inner fears and worries, particularly on pages 97 and 98. Sheila and her friend Margaux are discussing how Sheila is worried she doesn't have a good brain, and that other people "knew how to think" and "had opinions on things, a point of view. I did not." I can't tell you how many times I've worried about this, particularly while looking at Twitter. I'm not even kidding. Everyone there has so many opinions and thoughts that I'm often intimidated into sullen silence. I don't know what to say, I don't know how to jump in, I don't know how to sound smart. I just stare at the timeline like:
What's great about 'How Should a Person Be?' is that it's an ambitious work of philosophy wrapped inside an excellent novel. Sheila, the character, works in a hair salon while trying to push through intense self-doubt and writer's block to finish a feminist play she's overdue in delivering to a theater company. We follow her inner thoughts and her interactions with coworkers, friends and lovers as she struggles with the script as well as life's deeper questions, including but not limited to the one posed by the book's title, the meaning of art and whether the artist's life is a legitimate way to live. Sheila's foil for this inquiry is Margaux, a painter with a knack for writing emails as numbered lists, who she's in constant state of alienating, resenting and then making peace with. But Heti's foil is Friedrich Nietzsche:
Oh yes! Those of you who've known me since college know I love me some Nietzsche. My poor mother had to endure so many monologues from me about my favorite German philosopher; I can feel her eyes rolling from here! But don't worry, Ma! It's Mother's Day, and I will not subject you or anyone else to a line-by-line exegesis like some Straussian from Boston College. (Hi X! Hi Nazim!) No! But real quick check out this corner of my bookshelf that I normally keep hidden behind Carl Sagan's 'Murmurs of Earth' (note cameos by Spider-Gwen and Seth Rogoff):

No! Even though 'How Should a Person Be?' might be the most interesting interpretation of Nietzschean philosophy since 'Thus Spoke Zarathustra.' No! Even though there's references to idol smashing and characters who live beyond good and evil. No! And even though today is my actual birthday, I'm not going there:
Instead, I'm going to tell you that this book is a joy to read. I loved that it included an ugly painting contest as a device to explore the meaning of beauty as well as to distinguish between the artist who's a hack and the one who truly creates. I loved that parts of the book were like a play, mirroring Sheila the character's struggles while also making the experience of reading more enjoyable. I loved Heti's writing; every page is full of life, from the weird and quirky sections to others that were sexually graphic or scatologically off-putting. Some of Heti's scenes would shock the squeamish reader, but I felt she wielded shock for artistic and metaphorical effect like when Nietzsche wrote 'God is dead,' or when Childish Gambino released'This is America':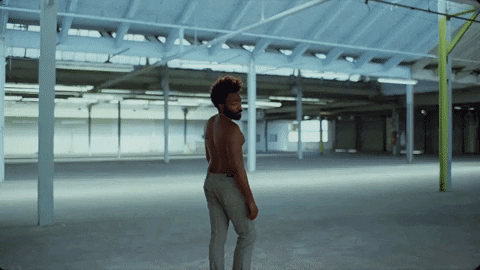 For example, Sheila lets herself be sexually humiliated by her lover, Israel, but then turns that humiliation into a source of power over him. I'm not sure what that means exactly or what Heti's trying to jolt us about overall, but my guess is that she wants people, particularly women, to live life on their own terms and not be bullied by men or by society's arbitrary rules. Because, in life:

What I loved most about 'How Should a Person Be?' is that I understood it more emotionally than intellectually. I really felt what Heti was driving at, even if I can't fully articulate it. That makes me happy.

My rating:


'How Should a Person Be?' by Sheila Heti was originally published in Canada by House of Anansi Press in 2012, and in the U.S. by Picador in 2013. 306 pages.
** If you enjoyed this newsletter, please share Books on GIF with a friend. **
In case you missed it: Books on GIF #80 reviewed 'Salvage the Bones' by Jesmyn Ward.

What's next: In two weeks you'll get a review of 'Circe' by Madeline Miller. Also in the queue are 'Moses, Man of the Mountain' by Zora Neale Hurston, 'Homesick For Another World' by Ottessa Moshfegh and 'The Lamb Will Slaughter the Lion' by Margaret Killjoy.

Send your recommendations: If you've got a bestseller, a classic or a forgotten gem you want me to review, shoot me an email anytime.
BoG is everywhere: Hit me up on Twitter, Facebook, Instagram and Goodreads.
Thanks for reading, and thanks especially to Donna for editing this review!
Until next time,

MPV