Books on GIF #63 — 7 Novels to Give as Holiday Gifts
Hi everyone!

Now that you've had your turkey and survived awkward family dinners, it's time to think about holiday presents. Here are some great books I read this year that would make nice gifts for friends and loved ones. Enjoy!

1) 'The Moor's Account' by Laila Lalami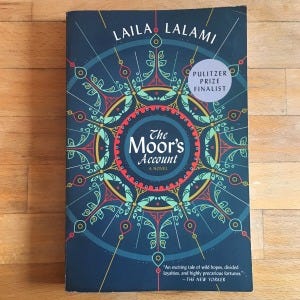 This was my favorite book this year. It's a work of historical fiction set during the conquest of America that's brilliant and engaging, and it feels like a truer and more necessary depiction of that era than what we learned in school. I give it: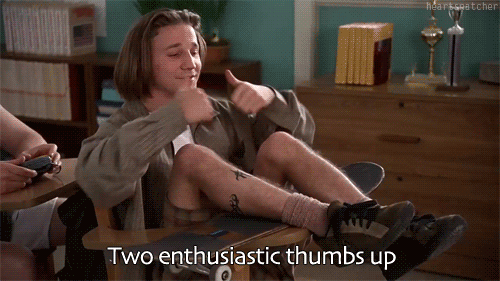 'The Moor's Account' by Laila Lalami was published in 2014 by Pantheon Books and in 2015 by Vintage Books. 321 pages. Buy it here.

2) 'First, the Raven: A Preface' by Seth Rogoff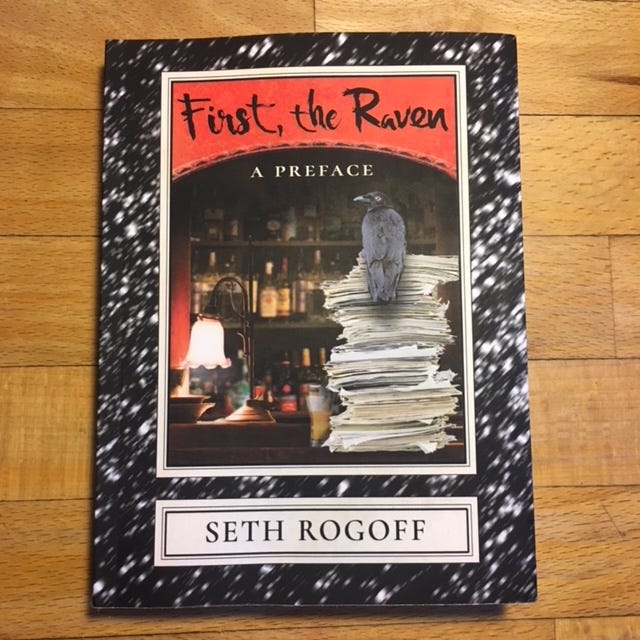 'First, the Raven: A Preface' is a novel that's fresh and original and good. I couldn't put it down. Rogoff writes vividly and holds your attention as he drives the narrative through twists and turns of 20th century Czech history and old friendships gone sour, as well as art, philosophy and religion. A lesser writer could have gone off a cliff and made this book a confusing mess. But 'First, the Raven' is clear and interesting. The book brought me so much joy, I felt like Marie Kondo after folding a shirt. This gif of her also brings me a lot of joy, I could just watch it over and over: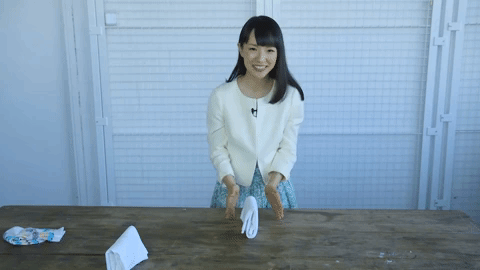 'First, the Raven: A Preface' by Seth Rogoff was published by Sagging Meniscus Press in 2017. 197 pages. Buy it here.

3) 'In a Lonely Place' by Dorothy B. Hughes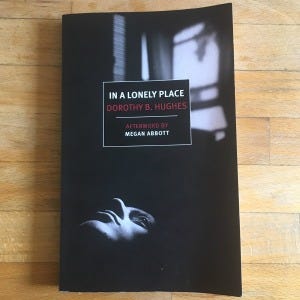 I knew absolutely nothing about 'In a Lonely Place' when I picked it up earlier this year off my bedside pile. What serendipity! It's excellent! Given the title, I thought it would be depressing and about love or something. Instead, it's an exciting noir thriller that explores what it means to be evil as it follows the day-to-day life of someone who commits: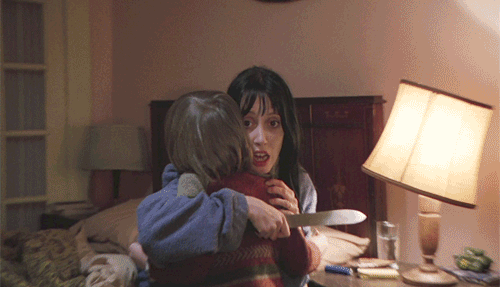 'In a Lonely Place,' by Dorothy B. Hughes was originally published in 1947. It was brought back into print by The New York Review of Books in 2017. 198 pages. Buy it here.

4) 'White Teeth' by Zadie Smith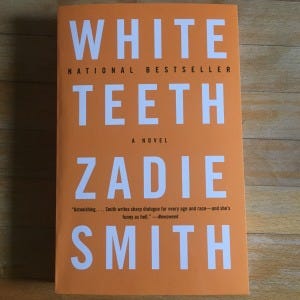 This book spent a long time in the 'oh, I want to read that' section of my brain, and when I finally got to it this year, I kicked myself for not reading it sooner. It's beautifully written. It's funny. It's about so many things, including immigration, identity, family, raising children, white privilege, history, racism, colonialism, religion, war, science, teeth, growing up and how we all fit into a diverse world. It's a book that's an essential read in the era of:

'White Teeth' by Zadie Smith was originally published in 2000 by Hamish Hamilton in Great Britain and by Random House in the United States. It was subsequently published by Vintage in 2001. 448 pages. Buy it here.

5) 'The Dud Avocado' by Elaine Dundy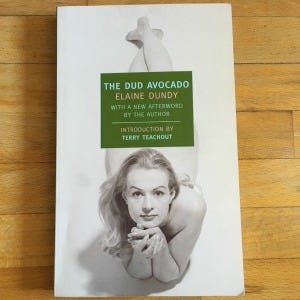 'The Dud Avocado' is a smart, funny and engaging book. It follows Sally Jay Gorce, who's fresh out of college and bent on conquering Paris. Her overwhelming impulse is to be free or, as she says, to 'run for her life.' She's not quite sure where she's running, but she's certain she wants to escape marriage, babies, cooking, cleaning and the other gender assignments of the late 1950s, when this book was written. It was great to watch her work through confusion, fear and self-doubt, and grow as a person. I was like: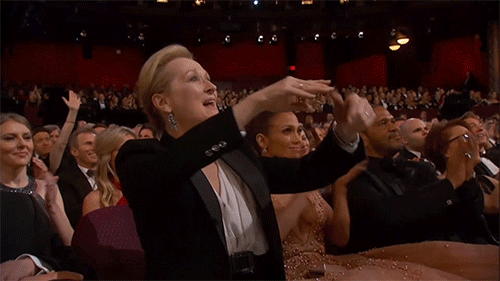 'The Dud Avocado' by Elaine Dundy was originally published in 1958 and reissued in 2007 by The New York Review of Books. 255 pages. Buy it here.

6) 'Ties' by Domenico Starnone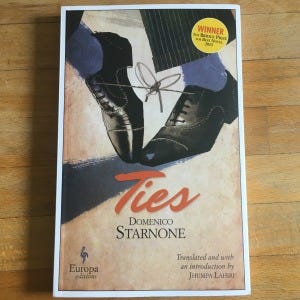 If you want to impress someone who loves literature, give them this book paired up with Elena Ferrante's 'The Days of Abandonment.' The books are closely related, as (possibly) are the authors, in that they tell the story of what happens to a family after a man leaves his wife and children for a younger woman. Even though Donna and I love Ferrante, we agree that 'Ties' was better than 'The Days of Abandonment.' As Donna said: 'It makes you want to reread it to find even deeper meanings.' 'Ties' is not a happy book. It's about selfishness, pain and the legacy of infidelity. And like any Ferrante novel, it hits you like: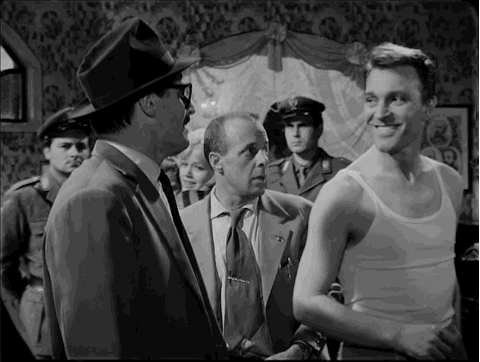 'Ties' by Domenico Starnone was originally published in 2014 by Guilio Einaudi and in 2017 by Europa Editions. Translated and with an excellent introduction by Jhumpa Lahiri. 150 pages. Buy it here.

7) 'The Blind Assassin' by Margaret Atwood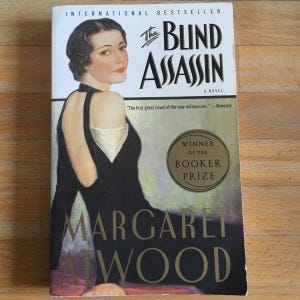 This book is unusual and it took me a few chapters to get the hang of it. But it's a master work of storytelling with so many perspectives, timelines and worlds all going at once. As my reading progressed, I kept thinking: 'How is she going to pull this off?' Because one false move and the whole thing could unravel, and instead of a masterpiece you could end up with a real clunker. I'm happy to reiterate that Atwood sticks the landing:


'The Blind Assassin' by Margaret Atwood was originally published by O. W. Toad, Ltd. in 2000 and then by Anchor Books in 2001. 521 pages. Buy it here.
** If you enjoyed this newsletter, please forward it to a friend. **
What's next? In the coming weeks Books on GIF will review 'The Shipping News' by Annie Proulx, 'Personal History' by Katharine Graham and 'Star Wars: Splinter of the Mind's Eye' by Alan Dean Foster, among others.
Support Books on GIF! Tell your friends, your book club, or even the person sitting next to you at the coffee shop about us, and help BoG grow. Here's the subscription link: https://tinyletter.com/BooksonGIF
You can also follow Books on GIF on Facebook, Twitter and Instagram.
Got a book you want me to review? Got an idea to help me improve BoG? Shoot me a note at booksongif@gmail.com.
Thanks for reading!*
MPV
* Thanks especially to Donna for copy editing!