Books on GIF #3 — 'My Brilliant Friend' by Elena Ferrante
Hello!

Books on GIF is a review and discussion of random books told with the help of GIFs. We'll cover fiction, nonfiction and the occasional graphic novel.

This week's book is one several of you requested: 'My Brilliant Friend," by mysterious Italian writer Elena Ferrante.

Hype about this book was tremendous. Would it measure up?

It did. I was like:
At age 66, Lila has decided she wants to erase her past and completely:
Her childhood friend, Lenu, is upset by this and decides to chronicle their relationship to keep Lila, in a way, present. 'My Brilliant Friend' recounts their childhood and teen years in post-World War II Naples.

The book, told from Lenu's perspective, reads more like memoir than fiction. Lenu is challenged by Lila's presence in her life: she is inspired by and loves her, yet feels in competition with her.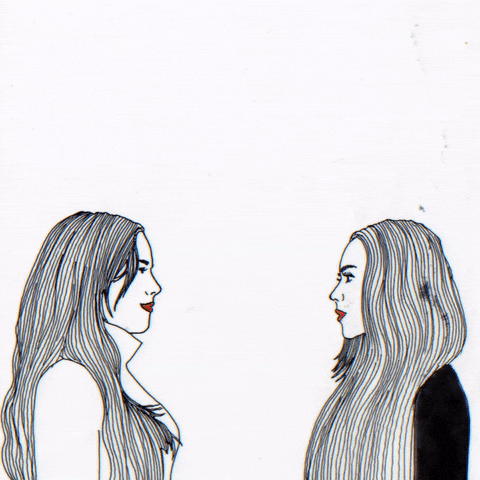 The friendship between Lila and Lenu is complicated and takes many twists and turns as the girls contend with love, death, poverty, sex, family, school work, work work, boys, gossip, neighborhood expectations, the outside world, and, ultimately, marriage and what these young women should want out of life.
'My Brilliant Friend' is a beautifully written book. It's simple, direct and elegant. Complex not confusing, profound not preachy. Ferrante has sprezzatura, which is an effortless mastery (see also: 'Sprezzatura: 50 Ways Italian Genius Shaped the World' by Peter D'Epiro).

Read this book, and I expect you'll react much like Antonio Banderas in 'Assassins.'
'My Brilliant Friend' (L'amica geniale) was published in 2012 by Europa Editions.

What's Next? Next Sunday you can expect a review of either 'A Brief History of Seven Killings' by Marlon James or 'The Meursault Investigation' by Kamel Daoud. Email me your preference.

If you like these reviews, please tell your friends! Here's the signup link: https://tinyletter.com/BooksonGIF

Send thoughts, recommendations and feedback to booksongif@gmail.com.

Thanks for reading!