Books on GIF #28 — 'The Door' by Magda Szabo
Hello!
Books on GIF is a weekly review and discussion of random books told with the help of GIFs. We'll cover fiction, nonfiction and the occasional graphic novel.
This Sunday's book is 'The Door' by Magda Szabo.
Since the beginning of Books on GIF, I've reviewed several works published by the New York Review of Books, which finds forgotten, foreign or otherwise out-of-print books and brings them back into circulation. They have a book club, which I subscribe to (and you should, too), where once a month one of these books is sent to me. The club has helped me encounter writers I wouldn't have otherwise. Some of the NYRB's finds are great, like 'The Black Spider.' Some are mediocre, like 'The Seven Madmen.' And some are clunkers, like'Girlfriends, Ghosts and Other Stories.'But 'The Door,' is a true gem. A masterpiece. It's:
The book is set in Communist-era Hungary, and the protagonist, Magda, is starting to enjoy a successful writing career. She and her husband are in need of a housekeeper. They meet Emerence, a mysterious older woman who struck me as a cross between Mary Poppins:

and Yoda:
Emerence takes the job, or rather she finds Magda and her husband suitable enough to work for, and the book, told from Magda's perspective, focuses on the relationship between the two women. In one sense, they're opposites: Magda is married, an intellectual and quite religious, while Emerence lives alone (except for cats and dogs), is illiterate and distrusts religion. But in another sense, they complement, and in fact, need each other. Magda needs help managing the house and her life, and Emerence needs someone to take care of. Over their two decades together, the women — almost without realizing it — become quite close.
Emerence is prickly (see Yoda's putdown above) and overly sensitive about perceived slights, particularly if one of her odd presents, which she regularly gives to Magda (like a single boot with an interesting spur) is not met with sufficient appreciation. But she is also capable of superhuman feats of housework and genuine kindness. She also has a way with animals, and all but adopts Magda's dog, Viola. But the most interesting thing about Emerence is what is barely revealed: her past and her internal life. You get snippets, but she keeps her life private — so much so that she never lets anyone into her home. Her front door is closed to everyone:
The door is hiding secret trauma from Emerence's past, and the fact that it closes off important information to the other characters and the reader alike makes it almost a character in itself. You want to know what the door knows, to be let in. But: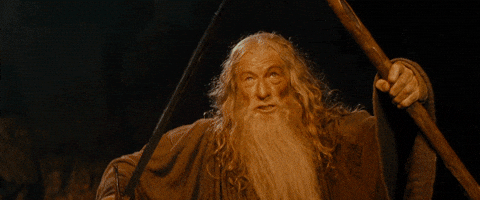 The door is a powerful symbol. Yes, it's a literary device, but it also makes a larger point about the line we each draw in our own lives as to who we let in to our interior worlds and who we:
'The Door' is one of the best books I've read within the last year or so, and Emerence is one of the few literary characters that I have really connected to and empathized with. (The others being Estraven from Ursula Le Guin's 'The Left Hand of Darkness,' Edmund Dantes from 'The Count of Monte Cristo' and, of course,'Siddhartha.'You should read these books, too.)
'The Door' (Az ajto) was originally published in Hungarian in 1987. The first English translation was published in England in 2005, and the New York Review of Books edition was published in 2015. 262 pages.

My rating:
What's next? In the coming weeks I'll review 'The Vegetarian' by Han Kang, 'White Teeth' by Zadie Smith and 'A Little Life' by Hanya Yanagihara.

Support Books on GIF! If you like these reviews, please tell your friends! Subscribe here: tinyletter.com/BooksonGIF

You can find an archive of these reviews here. You can also find Books on GIF on Facebook, Tumblr and Twitter. Send thoughts, recommendations and feedback to booksongif@gmail.com.

Thanks for reading!*
MPV

* Thanks especially to Donna for copy editing this review!